Tuesday will mark the 500th anniversary of the Protestant Reformation. One way of focusing on the key truths recovered by the Reformers is looking at what has come to be known as the "Five Solas." These truths are pictured below and represented by the following Latin phrases: Sola Scriptura, Sola Fide, Sola Gratia, Solus Christus, and Soli Deo Gloria.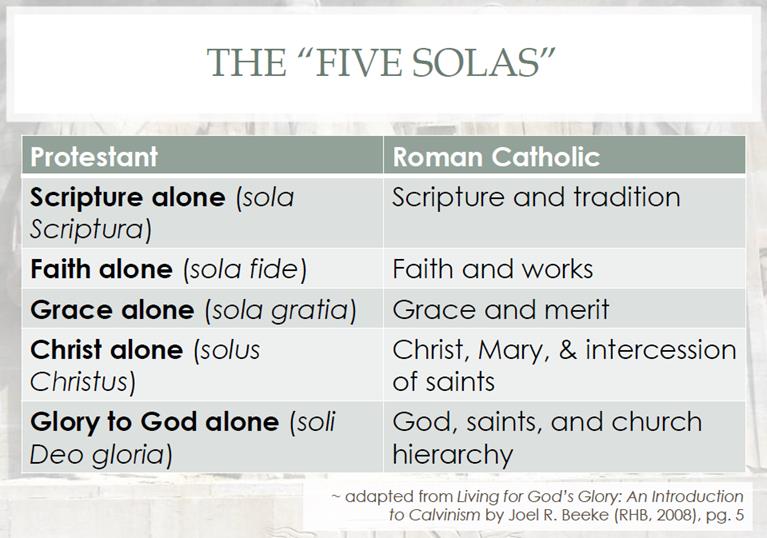 The following points are adapted from part 5 of my teaching series: "A Survey of the Reformation: Its History and Doctrine" which is available for free download here.
∼ ∼ ∼ ∼ ∼ ∼ ∼ ∼ ∼ ∼ ∼ ∼ ∼ ∼ ∼ ∼ ∼ ∼ ∼ ∼ ∼ ∼ ∼ ∼ ∼ ∼ ∼ ∼ ∼ ∼ ∼ ∼ ∼ ∼
Scripture Alone

The Scripture was liberated for the common people.
Reformers insisted on Scripture's supreme authority. [Scripture has final say over church tradition, but the Reformers still appreciated much that the Church Fathers and the ecumenical Church councils had agreed on (e.g., the orthodox statements on the Trinity and the Deity of Christ, for instance).]
Scripture was held as infallible and inerrant.
Scripture was preached — preaching and Scripture reading took pride of place in the "order of worship."
Faith Alone

Faith, not works, is the condition for justification.
Faith provides an "alien righteousness" –the works of Christ on our behalf (active and passive).
Justification by faith is a gift of God — and was absolutely essential to the Reformation.
Justification declares us righteous, it doesn't start the process of making us righteous (sanctification).
However, we are justified by faith alone, but not a faith that is alone. (No place for "easy-believism").
Helpful quote: "Where there is true faith,

works necessarily result

, just as fire necessarily brings with it heat." (Swiss Reformer, Ulrich Zwingli)
Grace Alone

Grace didn't just enable man to "pull himself up by his bootstraps."
Grace for the Reformers, was Sovereign
Helpful definition: "the free favour of God… conferred… upon the unworthy." (19th Century Calvinistic Baptist, William Newman)
Grace = "unmerited favor"
God's Riches At Christ's Expense
Grace calls us (Gal. 1:15), regenerates us (Titus 3:5), justifies us (Rom. 3:24), sanctifies us (Heb. 13:20-21), and preserves us (1 Pet. 1:3-5).
Christ Alone

The Church does not dispense salvation, Jesus does –Acts 4:12.
Mary & the Saints are not the mediator, Jesus is the only mediator –1 Tim. 2:5.
The Cross-work of Christ is sufficient for all the merit needed for salvation –Christ is "our righteousness."
The Cross-work of Christ is not repeated, but a finished work (no "re-run" of Christ's sacrifice in the Mass).
Christ's righteousness was both passive (submitting to death for us) and active (life that pleased God).
Today, we need to remember that Christ alone is where salvation is to be found –not in other religions or philosophies (contra postmodernism and pluralism).
God's Glory Alone

Hebrew word for glory is: kabod = "weight"
Greek word for glory is: δοξα = "opinion".
Definition: "value or worth, intrinsic to something and the value we externally place on it (in worship)."
God's goal is to manifest His glory.
Helpful summary: "Man's chief end is to glorify God, and to enjoy Him forever." (Westminster Shorter Catechism, Question 1)
God is the one who gets glory in the work of salvation – not man, Mary, the saints, or the Church.