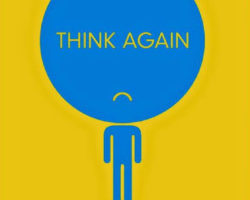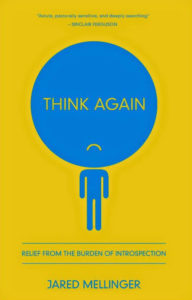 "Did he or didn't he? Did he step out of bounds or not?"  In the world of sports, such questions are settled with instant replay. The referees look at the video monitor and think again about the play they had just presided over. But now with additional camera angles, the verdict is overturned. "No, he was in bounds! Play on."
In real life, however, relying on instant replay is not always a good idea. Some people go to the cameras over and over again, rehashing each scene and second-guessing each decision. Introspection like that can be a harmful practice. Yet who hasn't taken joy in reliving a precious moment or grown through uncovering a destructive pattern?
Jared Mellinger addresses this thorny topic gracefully in a new book Think Again: Relief from the Burden of Introspection (New Growth Press, 2017). No stranger to negative thinking himself, Mellinger shares what he's learned through his life and ministry and draws from a host of reliable and helpful sources to cover this subject from almost every angle.
I imagine if I were to find a book on this topic in a typical Christian bookstore, the concept of having positive self-esteem might surface. That or a simple 8 steps to conquer this problem for good. Mellinger doesn't frame the matter so simply. He gives a big picture and a theological worldview through which to look at introspection, rather than a simple prescription for a happier life. And concerning self-esteem, he resists the urge to give in to the cultural pull to affirm yourself. A sample of some of his takeaways on this point will help:
Psalm 139:14 does not say, "I feel good about myself, for I am fearfully and wonderfully made." It says, "I praise you, for I am fearfully and wonderfully made." The focus is on God. The praise is directed to God, and the idol of self has been displaced. (p. 38)

Those with high self-image enjoy the praise they receive and think, I am awesome. Those with low self-image often want to receive praise they are not receiving and think, I am worthless. but through the idol-destroying power of the gospel, "I am awesome" and "I am worthless" give way to "Lord, I will praise you." (p. 39)
As the above excerpt illustrates, the book is clear and easy to read. The illustrations are poignant and pertinent, and they get your attention: Dobby the house elf even makes an appearance. The author is well read on this topic and acquaints the reader with numerous resources, recommending some books and quoting from classic Christian authors: C.S. Lewis, Charles Spurgeon, D.M. Lloyd-Jones, Richard Sibbes, John Calvin, G.K. Chesterton, and many more.
The strategy put forth is not to avoid introspection altogether, but to think less of self and more of Christ. He does call for repentance when sinful motives are found, but he also warns against letting false guilt consume you. We are sinful and fallen, but he reminds us of how often Paul praised God for the evidences of God's grace in the people he wrote to: we too must learn to see grace "in the mirror" (p. 97).
The book is not a theological treatise, don't get me wrong. It is incredibly helpful and practical. Mellinger shares realistic scenarios and walks through likely reactions from introverts and others. He often draws from his own experience with introspection and how others helped him.
I can't help but quote from his concluding chapter. This is really good:
The Christian life is a life of radical extra-spection. For every look to ourselves, we should be taking ten looks to Christ. And every time we look at ourselves, what we see should lead us back to Christ. Any sin we find should drive us to the work of Christ for us. And any good we find in ourselves should reveal the work of Christ in us and through us. Any weakness we find should lead us to the power of Christ toward us. (p. 155)
I can't think of a better resource to give to those who struggle with doubts or the tendency to second-guess and over-analyze decisions and motives. This resource is filled with Gospel goodness and solid enough to help those in a variety of situations. It is a book one might want to give away to special people in your life who are tender but perhaps too often weighed down with care.
Book Blurbs:
"Astute, pastorally sensitive, and deeply searching" ~ Sinclair Ferguson, professor and author of numerous books including The Christian Life and Devoted to God
"I believe that for many people this will be a truly liberating book." ~ Tim Chester, author of over 30 books including You Can Change
"Think Again will help you find freedom as you learn how to guard your heart while renewing your mind." ~ Bob Lepine, Cohost of FamilyLife Today
See more reviews at litfuse.com.
Where to Buy:
Disclaimer:
This book was provided by the publisher. I was under no obligation to offer a favorable review.