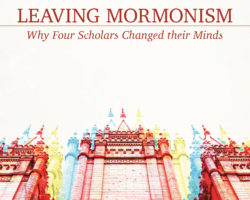 What is the biggest threat to biblical Christianity in America today? Many different answers could be given to that question. Some would say secular humanism or the new atheism. Others worry about the encroachment of Islam, or the modern rebirth of paganism or alternate spirituality. For many decades a strong case could be made that the truest answer is the growth of Mormonism, and its aggressive recruitment of evangelicals.
Mormonism from the outside looks benign from an evangelical perspective. Today's "culture-warrior" atheists see it as a threat, but the wholesome family image and moralism that Mormonism projects is attractive to evangelicals. In fact, some evangelical scholars are dialoguing with Mormonism and taking the approach that Mormons are simply misunderstood and really share too many similarities with evangelicals to be shunned (as they have been by the evangelical Church for almost 200 years now).
The scholars who contributed to Leaving Mormonism: Why Four Scholars Changed Their Minds (Kregel, 2017) beg to differ. Each tells a personal tale of their time spent within Mormonism (some as converts, one as a descendant of an honored Mormon family line) and how they came to understand Mormonism as antithetical to the Gospel that evangelical Christianity offers.
The book is unique in that it is not a sanitized, detached treatment of Mormonism. Neither is it a dialogue between Christians and Mormons: it is part-personal testimony, and part-scholarly critique. And since four different authors share their stories, it gives a unique perspective on the whole "Mormon question."
The authors heavily tout their work by stressing the fact that all four authors have earned doctorates. And while I'm sure that is a good thing, the result can be hard for the not-so-learned reader! The book at times is heady and scholarly to a fault. It also comes across as uneven. One of the authors is much less dogmatic about Christian faith than his peers, and I almost felt that his inclusion was merely because he has a doctorate! (Although I suspect his perspective is shared in an effort to show that even those with questions can still keep on believing in God and also not be Mormon. Sadly, many who leave Mormonism abandon theism altogether.) Another author lets out that she is a member at a Church of Christ church, which led me to wonder what her view of baptism and its role in conversion really is (some Church of Christ denominations emphasize baptismal regeneration which is rejected by most evangelicals).
These quibbles aside, the book makes for riveting reading, and provides an immersion into the eerie world of Mormonism, for the uninitiated. Anyone who has left one denomination for another, or who might still be healing from time spent in a spiritually abusive church, will particularly benefit from this book. Mormons and those exploring Mormonism are encouraged to read it.
The book is packed full of Mormon history and doctrinal oddities. It also stresses the important role of an accepting and welcoming evangelical Church body for those leaving Mormonism. Those who have Mormon family members, or anyone who attempts to reach out to Mormons will greatly benefit from this work and the discussion of what steps led to the conversions of these former Mormons.
I highly recommend this book for anyone interested in (or troubled by) Mormonism.
Book Blurbs:
"This is truly a great book. In fact, I have never seen anything like it. Miller and Wilder have brought together a team of very knowledgeable ex-Mormon scholars to share from various perspectives why they could no longer stay Mormons. And while many who leave Mormonism simply fall off the grid, the good news presented by author after author is that there is an intellectually and spiritually vibrant alternative: moving from Mormonism to historical Evangelical Christianity. The book is fair, irenic, and inviting. This is now the first place to go for anyone who wants an honest, serious critique of Mormonism, along with an alternative to consider. I give it my top recommendation." ~ J. P. Moreland, Ph.D., Distinguished Professor of Philosophy, Talbot School of Theology, Biola University
"This unique volume is not only written by former 'insiders,' who were all in their respective ways committed, but also by a group of deep thinkers who have taken the time to investigate and compare truth claims. Their histories, experiences, and education are all brought to bear on whether or not Mormon teaching is true, accurate, and reliable. As a resource to individuals, churches, or study groups, who will have to read carefully and thoroughly, this is a great tool…. I believe it deserves to be widely read, especially by those impacted or influenced by LDS teachings. It makes the Gospel clear by its amazing contrast. May that grace touch many as a result of this work." ~ Stuart McAllister, D. D., Ravi Zacharias International Ministries
"'Leaving Mormonism' today all too often means rejecting Christianity entirely in the mistaken belief that if Mormonism isn't true then no form of Christian faith is true. In Leaving Mormonism, four Christian scholars, each of whom also happens to be a former Mormon, show that faith in Jesus Christ as he is revealed in the Bible is intellectually and spiritually viable for disillusioned Latter-day Saints. The authors combine their authentic personal stories with scholarly analysis of critical issues and are not afraid to point out how evangelicals have sometimes failed to engage Mormons in a constructive manner. There is much for everyone to learn from this book." ~ Robert M. Bowman Jr., Ph.D., Executive Director, Institute for Religious Research
"Written with compassion, charity, and courage, this will be the go-to book for those interested in Christian-Mormon dialogue for years to come." ~ Paul M. Gould, Ph.D., Associate Professor of Philosophy and Christian Apologetics, Southwestern Baptist Theological Seminary
Where to Buy:
Pick up a copy of this book at any of the following online retailers: Amazon, ChristianBook.com, or direct from Kregel Publications.
Disclaimer:
This book was provided by Kregel Publications. The reviewer was under no obligation to offer a positive review.
About Book Briefs: Book Briefs are book notes, or short-form book reviews. They are my informed evaluation of a book, but stop short of being a full-length book review.