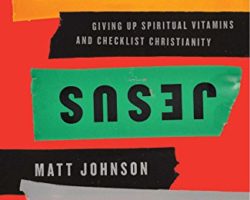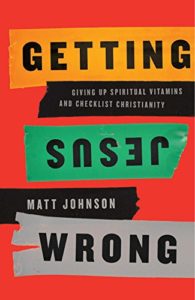 Getting Jesus Wrong may be one of the best titles I've seen in a while, and the book comes close to living up to its provocative name. The author is not well known, but his message deserves to be heard by one and all.
Matt Johnson is an interesting story in himself, a self-professed punk rocker who found Jesus and meandered his way through a small Pentecostal church and into a Calvary Chapel. He winds up in an evangelical mega church in Seattle with a reformed bent. A church, mind you, that has lately disbanded due to problems with its leadership. (While Johnson doesn't say it plainly, it is hard not to see this as Mars Hill Church and Mark Driscoll.)
Out of this ruin, Johnson emerges — but not untouched by the problems. At times he is painfully honest about his own condition. Jobless, with marital problems, burned out and disillusioned — he doesn't seem at first glance to be the kind of person who could and should author such a book as this. But his brokenness is appealing, and his message is freeing — both for himself and the reader. He has been wowed by a rediscovery of the free Gospel, unhindered by law. He has left behind a legalistic view of Christianity and found solid ground on which to stand.
The book uses his checkered history as a case study for how false impressions of Jesus can warp our Christianity. To many, Jesus is a Life Coach who may even offer a checklist for how to find a better life now. Or maybe Jesus is a movement leader or visionary who excites people to follow, only to use them as cogs to build his ministry. In all of this, acceptance with God and hope for the future depends on how well you follow the coach, keep the checklist, or contribute to the movement and the vision. And in the end, this approach leads to either pride or despair. You just can't do it. But if you could, then it's all you and not Jesus anyway.
The antidote to this problem is understanding the proper role of God's Law (and the little "l" laws that we often substitute). The Law is meant to kill us and leave us bereft of any hope apart from Christ. It is meant to make the Gospel that much sweeter, and grace so much greater. God loves his Son, and we are united to Jesus by faith. God is pleased with us, we don't have to earn his favor or maintain our standing through effort. This understanding should lead to humility and real hope.
This is a great message, and yet it can be misconstrued. I don't get the sense that Matt is saying holy living doesn't matter — although some could go there if they wanted. And neither does he say that God's grace does not produce righteousness in us either. But the law/Gospel distinction presented is refreshing, especially for those who have become enamored with the latest movement or visionary leader, and have lost sight of the soul-sustaining power of the Gospel. Johnson is careful to point back to himself as the source of the legalism. There were good people in his previous churches, and even a good church can't keep a legalist out.
Some will appreciate his authentic and open style. Others may be alarmed at his levity. I winced when I read about he and his Christian friend's penchant for "sloopersizing" their beer! Johnson's background leaves him more open-minded on some theological points than some will like: he is rethinking his views on traditional gender roles (complementarianism) for example. He also speaks of Christ's presence in the weekly communion and how the juice dribbling down his hand reminds him of his need for Christ. This sounds more Lutheran than a typical evangelical is accustomed to. But Johnson's clarity and openness redeems the book: his insights into contemporary Christianity's infatuation with morality ("law-lite") and his prescription for struggling legalists is invaluable.
As a sample of his style, and to end on a positive note, let me share a brief excerpt. Then get this book, especially if you have ever been burnt out, or struggled with legalism. In fact, you can get a copy to give to someone you think may be in that condition — but read it yourself first. I'm sure you'll benefit as well.
When your life is in the crapper, when your church is torn apart by wolves, God is present even if you can't see it or feel his presence. I have hope in the trials of life that he still makes beauty out of ashes (Isaiah 61:3). (p. 129)
Book Blurbs:
"This is a fun book to read. More than that, it's spot-on, filled with the Bible's central message. Tired of chicken-soup-for-the-soul spirituality? Then read this book!" ~ Michael Horton, Professor of Theology, Westminster Seminary California; cohost, "White Horse Inn" broadcast/podcast
"Because we've yawned at the gospel, Jesus has been refashioned into a person who offers more practical help: he's given to you so that you can love yourself more, be a re­ally great you, and be part of our really great movement. Matt Johnson struggled under the tyrant of that sort of Jesus until he discovered the wonder of the real Jesus—the One who dis­penses both Law and Gospel. This book is a strong antidote to all the 'wrong' Jesuses out there. I encourage you to read it and share it with friends. You'll be glad you did." ~ Elyse M. Fitzpatrick, author of Because He Loves Me
See more reviews at litfuse.com.
Where to Buy:
Disclaimer:
This book was provided by the publisher. I was under no obligation to offer a favorable review.