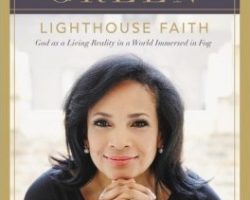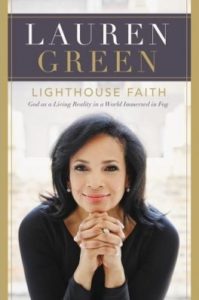 Lauren Green is a religion correspondent for Fox News, and also an accomplished pianist and former Miss Minnesota. She shares lessons from her faith journey in her new book Lighthouse Faith.
The book is a compilation of thoughts and reflections on life and spirituality and includes insights from some of the many scientists and religious leaders that she has interviewed over the years. She compares the Christian life to a lighthouse but switches metaphors often in her intriguing book. She finds spiritual power in places and poignant metaphors, and leads us from a quiet cottage, to a rocky shore and on to a vineyard and then into a musical analysis of none other than Handel's Messiah.
The book does go in circles but the reflections and thoughts shared are honest, heart-warming and rooted in a simple Christian faith. Green attends Redeemer Presbyterian Church pastored by Tim Keller as she notes in her acknowledgements and throughout the book, but her roots are in an AME church and her work brings her in touch with Christians of all stripes.
I was not moved by some of her observations. She finds the cross in the Pythagorean theorem (4 right angles = a cross in the middle) — and so to her, every building that stands, does so by power of the cross. Even in blood some of the molecules have a shape of the cross in them, she observes. She also leans on biblical numerology and makes tenuous connections. Perhaps even more troubling is her attempt to read motives into tragic events and look for a deeper meaning.
That said, her meditations make for interesting reading and no great damage is done. The eye of faith stands behind her work and many will benefit from her simple approach and sometimes deeply personal life-lessons.
Blurbs:
"Though many in the media and the academy portray belief in God as passé in our modern world, Lauren Green astutely observes that the heartfelt question, 'Where is God in my hour of need?' is universal. In more than forty years of travel I have heard this plea countless times, whether from students in university forums or corporate leaders in private conversations. A seasoned journalist and an accomplished pianist, Lauren interviews scholars and discloses her own journey to understand God as a living reality. She has lived out her faith with courage and grace in a difficult arena. Her words will encourage and challenge you."
—Ravi Zacharias, Founder and President of Ravi Zacharias International Ministries; Author and Speaker
"I have known Lauren Green since she played piano on my old Fox News show After Hours. Her discovery of who God is and what it means to be loved and find meaning in a relationship with him will help the reader find meaning and purpose in his or her own life. Isn't that what we all seek?"
—Cal Thomas, Syndicated Columnist
"Lauren Green is one of the bright lights in American journalism, and she has distinguished herself as an astute analyst of religion and culture. Lighthouse Faith is her new book, and, in it, she brings fresh insights and perspectives that readers will not have heard anywhere else! Her voice is thoroughly original, solidly biblical, and consistently inspiring. having personally interviewed the world's leading figures in religion, plus drawing from her own knowledge of history and current events, Green introduces timeless truths in fresh new ways. her explanation of how music theory relates to God (specifically as used by G.F. Handel) is absolutely riveting. In Lighthouse Faith Lauren Green brings readers content that truly is unique."
—Alex McFarland, Director of the Center for Apologetics and Christian Worldview, North Greenville University
Where to Buy:
Pick up a copy of this book at any of the following online retailers: Amazon, ChristianBook.com, or direct from Thomas Nelson.
Disclaimer:
This book was provided by Thomas Nelson via CrossFocusedReviews.com. The reviewer was under no obligation to offer a positive review.
About Book Briefs: Book Briefs are book notes, or short-form book reviews. They are my informed evaluation of a book, but stop short of being a full-length book review.