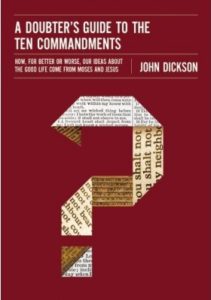 The following is a brief book excerpt from A Doubter's Guide to the Ten Commandments: How, For Better or Worse, Our Ideas about the Good Life Come from Moses and Jesus by John Dickson (Zondervan, 2016; p. 163-165).
——————————————————————-
In the timeless Mere Christianity, C.S. Lewis speaks of what he calls "the three parts of morality" — the social, the internal, and the spiritual. He employs the image of a fleet of ships that must get all three things right in order to function effectively:
There are two ways in which the human machine goes wrong. One is when human individuals drift apart from one another, or else collide with one another and do one another damage, by cheating or bullying. The other is when things go wrong inside the individual — when the different parts of him (his different faculties and desires and so on) either drift apart or interfere with one another. You can get the idea plain if you think of us as a fleet of ships sailing in formation. The voyage will be a success only, in the first place, if the ships do not collide and get in one another's way; and, secondly, if each ship is seaworthy and has her engines in good order. As a matter of fact, you cannot have either of these two things without the other. But there is one thing we have not yet taken into account. We have not asked where the fleet is trying to get to. However well the fleet sailed, its voyage would be a failure if it were meant to reach New York and actually arrived at Calcutta. Morality, then, seems to be concerned with three things. Firstly, with fair play and harmony between individuals. Secondly, with what might be called tidying up or harmonising the things inside each individual. Thirdly, with the general purpose of human life as a whole: what man was made for; what course the whole fleet ought to be on. (Mere Christianity, 58-59).
Secular ethics tend to focus on the social dimension. If it doesn't hurt another person, it must be fine. This approach tends to ignore the question of the goal of human life, in Lewis's image where the whole thing is headed. Sometimes there is also a neglect of virtue or the internal character of a person. It is common now to hear people say that a public leader can be a complete rat-bag in private life, so long as he serves well for the public good. This has not always been the case. There was a time when, for example, a leader's marital betrayal was seen as reason enough for someone to step down from high office. This was not mere moralism. The logic was: If "faithfulness" and "discipline" are not inner qualities of this leader, how can the public have confidence that such virtues will guide wider social decisions? It is true this old-fashioned rationale can be oppressive and unfairly employed, but there is something to it.
Religious ethics have their own, equally problematic, flaws. They are often strong on the spiritual dimension, what we are made for. But they can very frequently go astray on both the internal and the social dimensions. Religion can promote mere external piety, divorced from genuine virtue and love for others. Hence our distaste for the "religious hypocrite" I have talked so much about in this book.
The Ten Commandments are concerned with all three parts of the ethical enterprise. We are urged to find satisfaction in our Creator and his blessings. Then we are guided to honour our family and our neighbours. And, finally, the strange tenth commandment drills down to the engine room of our soul and asks, What do we truly desire?
——————————————————————-
Learn more about this book at Zondervan.com or Amazon.com.
Disclaimer: This book was provided by the publisher through the Amazon Vine program. I was under no obligation to offer a positive review.