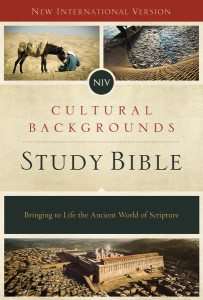 Zondervan has released a monumental study Bible. The NIV Cultural Backgrounds Study Bible promises to bring the ancient world of Scripture to life for contemporary readers. The array of resources presented and the depth of research made accessible could almost be described as incredible.
This Bible is presented in a beautiful format and the study notes and articles are written by top-notch evangelical scholars. The editors, John H. Walton (professor of OT at Wheaton College) and Craig S. Keener (professor of NT at Asbury Theological Seminary) are experts in their fields. They have drawn from the work of other evangelical tools in creating this study Bible: most notably, the Zondervan Illustrated Bible Backgrounds Commentary: Old Testament, (edited by John Walton), and the IVP Bible Background Commentary for Old and New Testaments, (the NT volume of which was edited by Craig Keener).
Introductions focusing on the historical setting, cultural/religious setting and literary setting are provided for each book of the Bible. Broader introductions for different genres and collections of books are also provided, and over 300 articles are furnished on a variety of cultural background topics. Nearly 400 full-color photos, illustrations and images brighten the pages of this volume. There are dozens of detailed maps and the study notes are by no means brief. I would say it rivals the ESV Study Bible for length, but the focus on the notes is largely centered on historical and cultural background information.
So many modern readers of the Bible skip past background info and dive forward into application of the text. This is a shortcut that is not usually going to produce the most wholesome and meaningful results.  Understanding the ancient world of the text of Scripture can help us better see the parallels with our own day and age. New insights can open up to us new vistas of thought, and cautions can prevent us from misappropriating passages in ignorance.
The book of Lamentations was my area of focus for this review. The introduction was not overly long but appropriately set the stage. Historical detail is a must for understanding what can be quite dark verses for the uninitiated. The pictures of captives from Lachish being led into exile, or of mourning captives being led away by the Assyrians gave an appropriate frame of refence for the text itself. The parallel laments of other ancient cities help inform the reader as to the genre of the book. The many notes explained odd references  and brought out a fuller depth of meaning. What does it mean for those who pass your way to "clap their hands at you" (2:15 – derision)? Or why is a measuring line stretched out over a wall that then wastes away (2:8 – to determine which parts are too unstable to be reused)? What could the stones being thrown at those in a "pit" possibly signify (3:53 – stone covers placed over abandoned cisterns sometimes used as a gruesome end for enemies)?
The design of the Bible with its tan colored center column for cross-references, and its beautifully designed cover pages make it inviting to peruse. The extensive indexes make sure the resources you are looking for are accessible. Timelines and an excellent concordance are additional features that complement this work well. Of particular note are charts explaining Hebrew terms that have no exact English equivalent, and a helpful glossary of key Greek terms. The tables of parallel Ancient Near Eastern literature that attest to the Bible's historicity or compare with it, are informative and invite the reader to pursue further study.
One final note of caution. Many evangelicals may not be prepared for the level of comparisons to be found between the Bible and other ancient literature and stories. Rather than explaining away or ignoring such parallel literature, this study Bible prepares the reader to know how best to understand the existence of such parallels and often points out how such parallels inform and enrich our understanding of Scripture and need not threaten our belief in Scripture's status as the Word of the Living God.
I highly recommend this new study Bible and am happy to add it to my shelf as I seek to grow in my understanding of the world of the Bible.
Learn more about this new resource at www.contextchangeseverything.com.
Purchase a copy of this book at Amazon.com, Christianbook.com, or direct from Zondervan.
Disclaimer: This book was provided by the publisher. I was under no obligation to offer a positive review.
About Book Briefs: Book Briefs are book notes, or short-form book reviews. They are my informed evaluation of a book, but stop short of being a full-length book review.