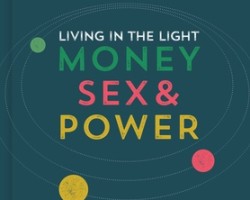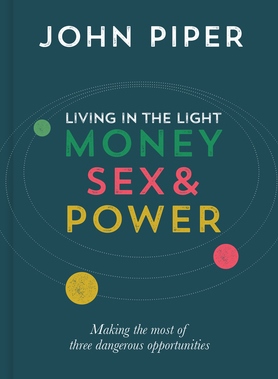 The title of one of John Piper's latest books is direct and confrontational, yet inviting at the same time: just like the man John Piper himself. Living in the Light: Money, Sex and Power (The Good Book Company, 2016) comes with a similarly direct yet inviting sub-title: "Making the most of three dangerous opportunities." The book lives up to its title. It is both warning and invitation, in short it is John Piper challenging us to live to God's glory in these three areas.
Piper explains that these three areas in themselves are not evil, they are God's gifts to us. He defines them as follows:
Power is a capacity to pursue what you value.
Money is a cultural symbol that can be exchanged in pursuit of what you value.
Sex is one of the pleasures that people value, and the pursuit of it.

(Living in the Light, p. 20)
He then looks to Romans 1 and the "great exchange" whereby man in his fallen state turns created things to idols and refuses to worship God. In our fallen state, we pursue sex and other things as means to their own ends – as a worship of self or other created things in opposition to God. Money is a status symbol, and power is self-exaltation. They represent real danger and Piper spares no punches in warning and unpacking the biblical warnings related to the unfettered pursuit of money, sex or power.
In contrast to the worldly way of using these things, redemption puts God in the proper place. Piper uses the analogy of the sun and planets. When the sun is in the proper place, the planets of money, sex and power line up in their proper spheres and complement our lives in ways God intended. When we bring one of those planets into a central place, life is out of order and God is spurned.
Piper does a good job explaining why and how each of these elements are properly to be enjoyed:
Money exists so that it will be plain by the way we use it that God is more to be desired than money. Sex exists so that it will be plain that God is more to be desired than sex. And power exists so that it will be plain that admiring and dependeing on his power is more to be desired than exalting our own.

p. 102
In all of this, Piper displays his pastoral burden to rein in Western Christians who are so pulled away from the centrality of the Son, by the gravity of the competing planets: money, sex and power. Yet at times he is too God-focused and too strong in his formulations. As in the quote above, I think sex is more than just something to be partaken of in light of God being better than sex. Same with money. God "richly provides us with everything to enjoy" (1 Tim. 6:17) and Piper's arguments sometimes seem to downplay the goodness of earthy pleasures. (For a great complement to Piper's call desire God chiefly, look at Joe Rigney's The Things of Earth: Treasuring God by Enjoying His Gifts, Crossway, 2014).
This quibble aside, this book is a clear and passionate call to live for Christ in today's sex-crazed and money-obsessed culture. We could all do with a dose of John Piper challenging us to a more Godward focus in this day and age! I highly recommend this short book. It would make for a great small group or Sunday School resource, although it does not come with discussion questions.
Consider picking up the book at Amazon, Westminster Bookstore, Christianbook.com, or direct through The Good Book Company.

Disclaimer: This book was provided by The Good Book Company. I was under no obligation to offer a favorable review.