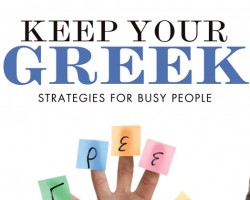 Many of us studied Greek back in our college days. some of us were proficient Greek students, once upon a time. Sadly, over time, the Greek vocabulary cards have lain untouched, paradigms become unfamiliar, and new Bible software tools provide the only real interaction with Greek that we continue to have.
Losing our Greek is troubling because we know that we learned Greek for a reason. Understanding the language of the New Testament allows us to "teach God's Word with depth of understanding, observing its subtleties and nuances, many of which cannot be conveyed in translation" (pg. 83). Ultimately, Greek study is all about knowing God's Word better so we can teach and preach it better.
Seeing so many Greek students slowly lose their Greek due to the business of pastoral ministry, Constantine R. Campbell started blogging about how to "Keep Your Greek". The tips and strategies he shared on his blog were widely appreciated and Campbell was encouraged to turn his helpful suggestions into a book. The result is Keep Your Greek: Strategies for Busy People a handy little book published by Zondervan.
Dr. Campbell, a senior lecturer in Greek and New Testament at Moore Theological College in Syndey, arranges his strategies in order of importance. Number one on his list is the importance of 10 minutes spent reading Greek every day.
Reading every day increases your confidence. Vocabulary, grammar, and syntax all feel more familiar with everyday exposure. Your subconscious mind is triggered regularly to reinforce your learning and knowledge.
There is no substitute for reading Greek, he insists. Next he encourages us to burn our interlinears. He later allows a prudent use of Bible software, and even the use of a Reader's Greek New Testament (like this one). But having the English translation of each Greek word immediately visible below prevents the actual learning of Greek. Too much dependence on software too, can cripple us — making us dependent on the tools and never proficient in the world of NT Greek.
Campbell offers encouragement when it comes to learning vocabulary and mastering those verb paradigms. Various tools, both online and in book form, are described as well. The most useful tool for Campbell is Burer and Miller's A New Reader's Lexicon of the Greek New Testament, which lists the unfamiliar Greek words and definitions in order, chapter by chapter throughout the New Testament. He advocates referencing this tool when reading the Greek for yourself.
Some will still wonder if relearning Greek is really worth it. They may have preached for years without much use of biblical languages. I thought Dr. Campbell's words on this point were quite helpful:
I've never met a Bible teacher who wished they had not learned Greek. It's only the guys who have let it slip and no longer use it for their sermon preparation who try to tell me that Greek doesn't enhance their teaching…. Of course it won't enhance your teaching if you don't use it!

…My own experience is that Greek always enhances my teaching of the Bible in some way. It may not always make a dramatic difference to my understanding of the text, though it sometimes does. But it always gives me a deeper appreciation of the text and insight into its nuances. This is the testimony of all those who have talked to me about their experiences of teaching the New Testament with a knowledge of Greek. It makes a difference. (pg. 10)
By the end of the book, after reading through all the tips and helps that Campbell offers, you find yourself agreeing with Campbell that yes, I can keep my Greek. "It's easier to remember the Greek you've forgotten than it was to learn it in the first place," he reminds us (pg. 73). An appendix applies the book to the first time learner, encouraging them to take care how they learn the language the first time. "Get it right the first time", that section is entitled.
Having began as a series of blog posts, this book is casual and accessible rather than formal and technical. After each chapter, Campbell even includes some of the blog reactions (comments) from his original readers. This feature of the book makes it both more interesting and more helpful. The insights, questions and feedback of the bloggers will mirror what's going through your mind as the reader. And many of the tips the bloggers share are worthwhile in their own right.
This little book, and it is little — only 90 pages long — will prove to be an encouragement to many, like me, who have let their Greek slide. I highly recommend it.
Be sure to check out the Keep Your Greek blog tour at Zondervan's Koinonia blog for more information on this book.
Disclaimer: This book was provided by Zondervan for review. I was under no obligation to offer a favorable review.
Pick up a copy of this book at Amazon.com or through Zondervan direct. An expanded version of this review, with additional resources, will also be available at CrossFocusedReviews.com.