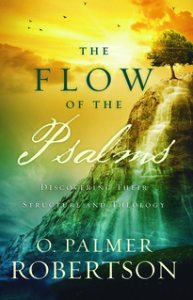 I'm currently reading through a new book from one of my favorite authors: O. Palmer Robertson. I've reviewed his The Christ of the Covenants and The Israel of God, which both were influential in forming my theology. My love for biblical theology certainly was kindled in part by Robertson's works.
His new book is The Flow of the Psalms: Discovering Their Structure and Theology (P & R Publishing, 2015). It promises to be an important book that may transform and sharpen my understanding and appreciation for the book of Psalms. After just the first two chapters, I know this is going to be a rewarding read.
I wanted to share an excerpt from this book. Robertson explains how the first two Psalms form a doorway into the Psalter as a whole, and help to shape how we should interact with this important book.
The Two "Poetic Pillars"

Of primary importance in Psalter structure are the two "poetic pillars"that escort the reader into the temple of the book of Psalms, Psalms 1 and 2. Taken together, these two very brief psalms anticipate major themes that permeate all five books. First among these themes is the contrast between the righteous and the wicked as they are judged on the basis of their response to God's revealed Torah, the law, the teaching, the instruction of the Lord….

The second major theme found in these two poetic pillars that runs throughout the book of Psalms is the person of God's Messiah, his perpetual dynasty and his permanent dwellingplace….

So these two opening psalms present in condensed poetic fashion the overarching message of the Psalter. God's law, the contrary responses of two groups of people to that law, and the outworking of the consequence of their responses are interrelated themes that permeate the Psalter. At the same time, two kings and two kingdoms merge into each other through the repeating message of the Psalms. David and his descendants will be established in a perpetual kingship at a particular locale. Yahweh rules over heaven and earth from eternity and throughout all time. Eventually, Messiah's kingship must merge with Yahweh's kingship so that the kingdoms of earth and heaven, of time and eternity, are one. This merger of the two kings and the two kingdoms permeates the theology of the Psalter. This perspective alone can explain how the concept of kingship in Israel continues long after kings no longer exist in the nation. It also explains how the kingship of Jesus as Messiah could merge so perfectly with God's kingship over the world. (from pp. 13-15)
Pick up a copy of this book from any of the following retailers:
Disclaimer: This book was provided by the publisher, via NetGalley.com. I was under no obligation to offer a positive review.