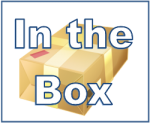 "In the Box" posts highlight new books I've received in the mail.
It is time to showcase a few of the titles to arrive at my doorstep in the last few weeks. I'm truly blessed to be able to read so many great books, and Christian publishers seem to never let up in their race to get high quality materials out the door. We are truly blessed with an abundance of Christian resources to help us in our walk with Christ.
Apologetics Study Bible for Students edited by Sean McDowell (Broadman & Holman)
This study Bible promises to "ground Christian students in the truths of Scripture by equipping them with thoughtful and practical responses to difficult and heartfelt challenges to core issues of faith and life." . The format is attractive and handy, with tabs for finding Bible books and attractive knowledge articles for exploration. Study Notes, "Twisted Scripture" snippets, archeological notes, notable quotes, apologetic tactics/strategies, and personal stories are some of teh features that may equip young readers. With a few preteens of my own, I'm hoping this resource will be a benefit to my children and look forward to examining this more closely in the weeks to come.
To learn more about this book, visit apologeticsbible.com and click on "Student Edition ASB," or check out the preview available at , Amazon, CBD or Broadman & Holman.
The Pastor as Public Theologian: Reclaiming a Lost Vision by Kevin J. VanHoozer and Owen Strachan (Baker Academic)
A book endorsed by both Tim Keller and Eugene Peterson deserves your attention. The theme of this book backs up Peterson's assessment: "This is a timely, more than timely–urgent–book." Reuniting theology and pastoring certainly seems like an urgent task today and the blueprint provided in this book by one of the foremost evangelical theologians is both optimistic and helpful. The personal comments by twelve pastors sprinkled throughout the book add a special poignancy and bring the vision down to earth. This looks good and I can't wait to delve in deeper.
To learn more about this book, visit the book detail page at Baker Academic, or check out the preview available at Westminster Bookstore, Amazon, or CBD.