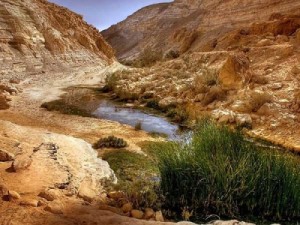 One of my favorite texts is Isaiah 35. It is pregnant with intertextual allusions – echoes of other Bible stories and passages. It is a classic "new exodus" passage, where Isaiah casts the future restoration of Israel in the terminology of the original Exodus from Egypt. There is a way through a wilderness, and a return to the land. What is especially important is how Christ's ministry and many New Testament books indicate that this new Isaianic exodus finds a beginning fulfillment in Jesus Christ and the experience of the Church.
Recently, I had the opportunity to lead a men's Bible study where we inductively worked our way through this passage. I prepared several questions aimed at encouraging the pursuit of textual links to this passage as a way to understand what Isaiah 35 is communicating poetically. May these questions spark your own fascination with this chapter and may your own wilderness experience find new life through the outpouring of the Holy Spirit.
If you want to interact further or suggest additional parallels, by all means join the converstaion in the comments section here.
Text:
Isaiah 35 (ESV)

1    The wilderness and the dry land shall be glad;
the desert shall rejoice and blossom like the crocus;
2    it shall blossom abundantly
and rejoice with joy and singing.
The glory of Lebanon shall be given to it,
the majesty of Carmel and Sharon.
They shall see the glory of the Lord,
the majesty of our God.

3    Strengthen the weak hands,
and make firm the feeble knees.
4    Say to those who have an anxious heart,
"Be strong; fear not!
Behold, your God
will come with vengeance,
with the recompense of God.
He will come and save you."

5    Then the eyes of the blind shall be opened,
and the ears of the deaf unstopped;
6    then shall the lame man leap like a deer,
and the tongue of the mute sing for joy.
For waters break forth in the wilderness,
and streams in the desert;
7    the burning sand shall become a pool,
and the thirsty ground springs of water;
in the haunt of jackals, where they lie down,
the grass shall become reeds and rushes.

8    And a highway shall be there,
and it shall be called the Way of Holiness;
the unclean shall not pass over it.
It shall belong to those who walk on the way;
even if they are fools, they shall not go astray.
9    No lion shall be there,
nor shall any ravenous beast come up on it;
they shall not be found there,
but the redeemed shall walk there.
10  And the ransomed of the Lord shall return
and come to Zion with singing;
everlasting joy shall be upon their heads;
they shall obtain gladness and joy,
and sorrow and sighing shall flee away.
Questions/Observations:
Why does it refer to "wilderness" and "dry land" (vs. 1-2)?
What might the "glory of the LORD" be (vs. 2)?

Look at 40:4-5; Luke 3:3-6; Matt. 3:3; see also Is. 35:4.

Isaiah 35:3 is quoted in Hebrews 12:12, why?

Context of vs. 4 indicates this is an encouragement (see 40:1).

What can be drawn from Isaiah 35:5-6?

This may address the time or manner of fulfillment.

Water and streams in the desert – what might this imagery suggest (v. 6)?

See also: 41:17-20, 43:16-21, 44:3-4, John 7:38-39 (also 32:11-16 above).
A personal angle on this too: Ps. 42:1-2, Ps. 63:1.

Look at the parallels to 35:7 and see if an image or recollection from earlier in Israel's history is coming to mind.

Look at 48:20-21, 49:9-13.

The King's Highway (v. 8)– not just a road for God (40:3) but one he travels with us (Mark 8-10 – his journey to Jerusalem – 10:32, 52).

Jesus opened a "new and living way" for us Heb. 10:20, John 14:6.

Jesus leads us on the way like a shepherd leads the sheep (vs. 8-9).

Our shepherd leads us on the way 40:10-11, John 10:9, 27.
Our shepherd fights for us, too 35:8, John 10:10-12 (also Mark 1:13).

The way to Zion is only for the "ransomed."

See also Is. 51:10-11, Rev. 21:23-27 (with Is. 60:3-12).

Ultimately there is "everlasting joy" – through Christ.

See Is. 65:17-19 with Isaiah chapter 12.