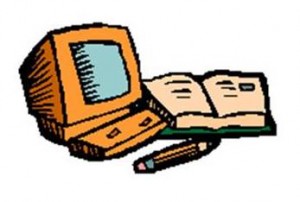 It is common for bloggers to write about good books. I got my first couple review books naturally: I saw the title and thought that would be interesting for me – and my readers. Only later did I realize that Christian book publishers are starving for media attention, and that reviewing a book helps the publisher as much as it helps me and my readers.
Over the years, I have been successful at getting a variety of free books to showcase on my blog. I have reviewed over 170 books, most of which I've received free from the publisher, using one of the options shown below.
So how can you get in on the fun? How can you start to blog for books? Here are a few options:
1) Contact a publisher and ask to review their book. You can do this through finding email addresses of publicists or using generic emails for the publishing company. Some publishers have an order form on their main website that has an option for "review copy."
2) Since blogging has exploded and almost everyone can have a blog, option #1 isn't always possible or likely for everyone. Several Christian publishers have now made it easy for bloggers to get a free book in exchange for sharing their honest opinion about it on their blog. Some of these programs will only give you an ebook, but it is still a great way to get a free book in exchange for your honest opinion. Below you'll find some banners promoting the various Christian publisher book review programs I know of. Just click on the banner that interests you and you should be taken to a sign-up page for their program.
3) NetGalley.com is an option for the reviewer who likes ebooks. There are a lot of publishers, Christian and secular, that use this service. Books will sometimes expire too. Each publisher can choose to accept or deny requests, but the more reviews you post and feedback you give, the more likely other publishers will be to let you have their titles too.
4) If you have a connection with fundamentalism, you may also be interested in signing up to be a Sharper Iron book reviewer. As Sharper Iron's book review editor, I am constantly looking for new reviewers who share our basic mindset (of historic fundamentalism), and who can furnish a well-written book review. Learn more about Sharper Iron reviews here, explore available review titles, and feel free to contact me with any questions.
5) If you share similar interests in books as I do, you may also want to join Cross Focused Reviews, a blog review service which is truly unique. Cross Focused Reviews offers books from a variety of Christian publishers.