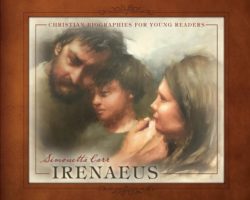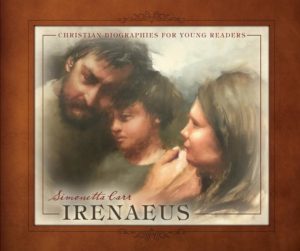 The Christian Biographies for Young Readers series introduces children to key figures from church history. Author Simonetta Carr and illustrator Matt Abraxas offer a compelling and beautiful historical account of the life of each Christian figure profiled in the series. To date, the series includes volumes on Reformation leaders (John Calvin, Martin Luther, Peter Martyr Vermigli, and John Knox), Puritan notables (John Owen and Jonathan Edwards), Reformation era heroines (Lady Jane Grey and Marie Durand), and Church fathers (Augustine of Hippo, Athanasius, Anselm of Canterbury). The latest volume adds Irenaeus to this last category.
Irenaeus was a disciple of Polycarp, who was a disciple of John, the Beloved, himself a disciple of Jesus Christ. Irenaeus was known as a polemicist, and defender of Christian faith in the vein of Justin Martyr. Gnosticism was the chief error that Irenaeus attacked in his ministry, but "attack" may be the wrong word. Carr highlights his pastoral motives and efforts to be a peacemaker. The book by which we most remember Irenaeus today is his classic Against Heresies, which is remembered as "one of the first great summaries of Christian thought" (p. 41).
Born in around A.D. 130 in Smyrna (Izmir, Turkey today), Irenaeus eventually migrated to Rome. He then settled in east-central Gaul (now known as France), and pastored in the towns of Vienne and Lyon for more than twenty years, before his death in around A.D. 200. In giving an account of Irenaeus' life, Carr introduces young readers to other important church figures like Justin Martyr and Polycarp. She also highlights the errors of Marcion, the Valentinians and the Gnostics. The account of Polycarp's martyrdom is particularly moving.
As a lover of church history, this book truly is a joy to page through. Maps, historical paintings, pictures of Roman catacombs, images of manuscripts, and other pertinent illustrations abound. A "Did You Know?" section, and a timeline help to make this book useful for all readers. The writing is at the level of children, but most adults would do well to brush up on early church history through a reading of this book!
One criticism of this particular volume in the series, was the strange absence of any mention of the books today known as "The Apostolic Fathers." These are books widely known and read throughout church history – see my review of a modern edition of them. The Epistle of Polycarp to the Philippians, and the work called The Martyrdom of Polycarp could have been easily referred to. These books are not to be treated as more important than Scripture, but they are among the best that church tradition and history has given us.
Having read many of her works, I appreciate Simonetta Carr's attention to detail and focus on historical accuracy — evident in this latest book as well. I am once again thankful my children will have an opportunity to learn about church history by means of this helpful resource.
This book deserves a place in church or school libraries, and would make a great addition to your coffee table or personal bookcase. If you haven't picked up a title in the Christian Biographies for Young Readers series, now would be a good time. You won't be disappointed with Irenaeus. Read also this earlier review of some of the previous titles in the series.
Pick up a copy of this book at any of the following online retailers: Amazon, Westminster Bookstore, or direct from Reformation Heritage.
Disclaimer: This book was provided by Reformation Heritage Books via CrossFocusedReviews.com. The reviewer was under no obligation to offer a positive review.
About Book Briefs: Book Briefs are book notes, or short-form book reviews. They are my informed evaluation of a book, but stop short of being a full-length book review.