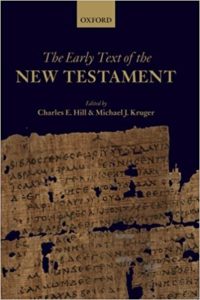 A common assumption among critics of Christianity is that the New Testament was standardized after a long period of textual flux. Only by the fourth century A.D., it is argued, were the competing texts consolidated into standard recensions that became the Alexandrian text and later the Byzantine text. This two to three hundred year period of textual flux gives skeptics room to assume that along with the text, received doctrines such as the deity of Christ and the role of subsitutionary atonement  were also only lately agreed upon.
While there had been textual evidence that seemed to suggest great textual fluidity in the first two centuries after Christ, the more we study the early NT papyrii (over 60 significant portions of NT manuscripts that date from the apx. A.D. 125 to the 400s) the shorter any period of textual flux becomes. Last year, Dr. Charles E. Hill delivered the Spring academic lecture at Reformed Theological Seminary in Orlando on the topic of the early development of the New Testament text. And his lecture which is available online, does much to clear up this question (see the lecture description here). In 53 minutes (he begins at the 6 minute mark) he gives an overview of the history of textual criticism and details how the scholastic consensus from textual critics familiar with the evidence has shifted in the last few decades. The takeaway from his lecture is that the New Testament text is much more solid than skeptics would have us believe.
If you are interested in textual debates, the new atheism, or textual criticism, this lecture will be informative. Even for those who may be majority text proponents, the recounting of the current state of textual criticism today will prove instructive. Hill is the John R. Richardson Professor of New Testament and Early Christianity at Reformed Theological Seminary Orlando, and has graduate degrees from Westminster Theological Seminary California (M.Div.) and the University of Cambridge (Ph.D.). He is the author of several books, and was co-editor and contributor to The Early Text of the New Testament (Oxford University Press, 2012).