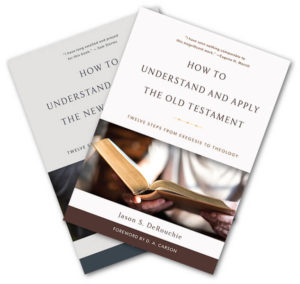 Westminster Bookstore has a great deal on a pair of highly recommended resources for Bible study. How to Understand and Apply the Old Testament by Jason S. DeRouchie and How to Understand and Apply the New Testament by Andrew D. Naselli are new titles from P & R Publishing.
This pair of books both include forewords by D.A. Carson, and each author is a professor at Bethlehem College and Seminary, Minneapolis, MN, founded by John Piper. DeRouchie is Professor of OT and Biblical Theology, and Naselli is Assistant Professor of NT and Theology.
These tools cover everything needed to go from biblical text to Bible lesson or Sunday morning sermon: understanding genre and literary units, delving into textual variants and Bible translation, diagramming/bracketing the passage looking for semantic relationships, word and concept studies, understanding historical and literary contexts, and reviewing biblical and systematic theology implications. The books are written with lay church leaders in mind, avoiding technical jargon wherever possible.
Here is a full description of the books with many of the numerous book endorsements from church leaders. The sale is 45% off individual volumes ($22) and 50% off the set ($40). This fantastic deal ends April 11, 2017.