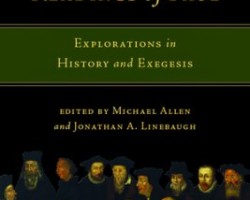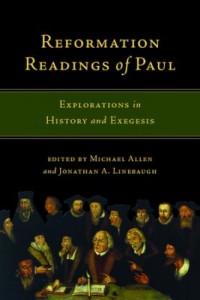 Today is Reformation Day. 498 years ago today, October 31, Martin Luther nailed the 95 Theses on the church door in Wittenburg. And the rest is history!
Luther's theology was born out of a careful interaction with the text of Scripture. Indeed the reading of Scripture played a prominent role in Luther's conversion and that of many other reformers. Luther's revelation from his reading of Romans 1:16 is commonly known. Another reformer in England, shares a similar account of his own conversion from reading a passage also written by the Apostle Paul.
Thomas Bilney, who in 1519 obtained an edition of Desiderius Erasmus's translation of the Bible in order to savor the eloquence of the Latin only to

chance upon this sentence of St. Paul… in 1 Tim 1:15 "It is a true saying and worthy of all men to be embraced, that Christ Jesus came into the world to save sinners, of whom I am the chief and principal." This one sentence, through God's instruction… working inwardly in my heart, did so gladden it–which before was wounded by the awareness of my sins almost to the point of desperation–that immediately I felt a marvelous inner peace, so much so that my bruised bones leapt for joy."

[quote from John Fox's Actes and Monuments, in Reformation Readings of Paul, p. 15]
This refreshing reminder of the power of Scripture is included in the introduction to a new book exploring the Reformer's interpretive readings of Paul. Pauline scholarship today is largely skeptical of Luther's interpretation of Paul. Protestantism in general does not follow all of Luther's doctrines. We do credit him with the recovery of the gospel of grace, however. Luther's exact definition of justification, however, is under criticism today by Pauline scholars. Yet more often than not, it is the legacy of Luther rather than Luther's own interpretations that is disputed. The same can be said of other Reformers as well.
Did Luther really reimagine Paul and make Galatians speak to 16th century problems? Did Calvin read his Reformation era realities back into the Pauline texts he unpacked? Some Pauline scholars would make us think so.
In Reformation Readings of Paul: Explorations in History and Exegesis (IVP, 2015), editors Michael Allen and Jonathan A. Linebaugh take the time to bring the Reformers to life as readers of Paul. The book brings a fresh look at the exegetical readings of Luther and other Reformers, showcases the historical and theological background of their era, and then seeks to bring these insights into conversation with current Pauline studies. This approach "invite(s) the reformers back into the discussion about Paul's texts and the theology they articulated as a reading of those texts" and is especially helpful given the relative "absence of detailed engagement with the exegesis and theology of the reformers" in contemporary circles (p. 13).
This book may not present a view that all Protestants will agree with, but it will bring us back to engagement with the Reformers. We will learn how Luther read Galatians, and how Romans shaped Philipp Melanchthon's theology. Martin Bucer and Ephesians, the Corinthian Epistles and John Calvin and finally the Letters of Paul and Thomas Cranmer more generally. In addition to the editors, the following authors contribute to the book: David C. Fink, John M. G. Barclay, Robert Kolb, Mark Seifrid, Brian Lugioyo, Wesley Hill, Dane C. Ortlund, Ashley Null and Gerald Bray.
This volume promises to be an intriguing read and may be worth checking out this Reformation Day. I want to share the takeaway from the introduction:
For the reformers, Scripture is the "living and active" Word… and is therefore less an object for us to interpret than it is the sound of the speaking God who interprets us. Understood this way, Scripture is God speaking, reading is listening, and helpful commentary is simply that which helps us hear. That, in the end, is the criterion the reformers would asked to be judged by: having heard them read Paul, are our ears more open to the gospel he proclaimed–the gospel the reformers, like Paul, were "unashamed" of because they, like Paul, confessed it to be "the power of God unto salvation" (Rom 1:16 KJV)? (p. 19)
Purchase a copy of this book at Amazon.com, Christianbook.com, or direct from IVP.
Disclaimer: This book was provided by the publisher. I was under no obligation to offer a positive review.