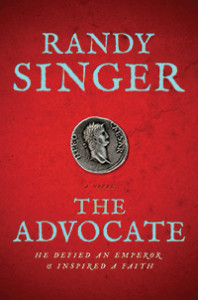 Many have wondered at the person to whom Luke addressed his Gospel and the Book of Acts. Just who was Theophilus? Is his name just a symbol (it means "lover of God")? Or was this a real person, and if so, who was he?
These theological musings may form part of the background to a new work by Randy Singer. The Advocate (Tyndale House, 2014) traces the fictional life of Theophilus from his schooling in Rome under the tutelage of Seneca, to a stint serving Pontius Pilate in Judea, and on to an improbable confrontation with the emperor. But I don't want to give too much away.
The telling of the story was as much fun as the tale itself. Theophilus' 1st Century world was described in a masterful way.  The book spends a lot of time developing the main character and pushing forward a romance, and at first Christianity is only a tangential concern. The reader begins to truly inhabit the character and can only guess at how his story will turn out. The ups and downs, the triumphs and tragedies move the tale along. And Theophilus' conversion and battles with faith are both believable and inspiring at the same time.
Like any good work of fiction, there is much more to the story than I described above. One will find a complicated love triangle, gladiators and conspiracies, and intimate details concerning two maniacal emperors. The tale becomes engrossing the longer it goes and by the end you are loathe to leave Theophilus behind. I was completely impressed by this story and hope to sample other works from this author.
I should also share that this book won the 2015 ECPA Christian Book Award for the Fiction category! Well deserved, in my opinion.
I listened to the Christianaudio.com version of the book. David Cochran Heath did a fantastic job reading the book, he provided the right amount of character phrasing, differences in the voices, and energy. The audio experience was completely engrossing.  The only challenge I had was the sheer number of chapters: each audio file was a different chapter, and with an inexpensive mp3 player, I had to keep skipping past chapters that were sorted alphabetically (instead of sequentially). This was a small price to pay for this fascinating example of historical fiction.
I highly recommend this for anyone looking for a good summer read. ChristianAudio.com has the download available for free the rest of this month (May, 2015). And I'm sure it would be good in paperback form as well.
Pick up a copy of this book at any of the following online retailers: ChristianAudio.com, Amazon.com, ChristianBook.com, or direct from Tyndale House.
Disclaimer: This book was provided by Christianaudio.com. The reviewer was under no obligation to offer a positive review.
About Book Briefs: Book Briefs are book notes, or short-form book reviews. They are my informed evaluation of a book, but stop short of being a full-length book review.