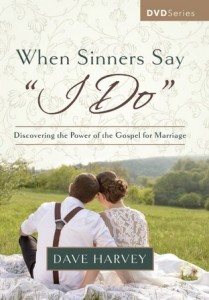 Book Details:
• Speaker: Dave Harvey
• Director: Patrick Gines
• Publisher: Shepherd Press (2014)
• Format: DVD
• Run Time: 195 minutes
• ISBN/ASIN#: 1633420922
• List Price: $59.99 (sale at Shepherd Press for $39.95)
• Rating: Must Watch
Blurbs:
"Dave Harvey skillfully exposes the real root of most marriage problems — each spouse is still a sinner. But he doesn't leave us to wallow in our sin. He shows the way out through the ongoing power of the gospel. This will be helpful for any married couple whether they've been married five weeks or fifty years."
—Jerry Bridges, Author of the Pursuit of Holiness
"Listen closely as Dave Harvey teaches on the struggles that characterize all marriages. His words are clear and inviting. He says it in a way that is fresh and humble. He cuts to the heart of what all of us are like—people needing daily, freely-given mercies from the Lord. And he cuts to the heart of what all of us need—not self-help, not a pep talk, not a few tips, but an active Savior. Listen, take to heart, and you will grow wiser as a husband or wife."
—David Powlison, Executive Director, CCEF; Senior Editor, Journal of Biblical Counseling
"There is no laboratory for the grace of God like the family home. And there is no relationship so crucial to the work of grace in our homes as our marriages. It's for these reasons I'm so grateful for Dave Harvey's careful, wise, and relevant teaching in When Sinners Say I Do. Watch closely with your spouse or spouse-to-be, and let Dave lead you with great experience and pastoral care through the hard places of marriage right into the very throne room of God, where you both will find abundant grace for every need you have from now until your nineties."
—Jared C. Wilson, Director of Content Strategy, Midwestern Seminary; TGC Blogger, The Gospel-Driven Church
Review:
Marriage is under attack today from all sides. Churches are being pressured to recognize marriages between people of the same gender. Our culture insists on "divorce on demand." Even in conservative evangelical churches it seems that marriages have never been more unstable. Christians are getting divorced at alarmingly high rates.
Solutions to our dilemma abound. There are countless counseling resources and video series aimed at spicing up your marriage, learning the right "love talk," or trying increasingly bizarre sexual practices as a way to keep our marriages vibrant.
Dave Harvey points out what should be obvious. The problem with marriages lasting comes down to one simple point. Marriage always involves 2 people and both of them are sinners! His book When Sinners Say "I Do" has helped many Christian couples. Now Shepherd Press has released an 8 part video series in an effort to equip the church with Dave's important message.
This DVD series showcases Pastor Harvey walking through different passages of Scripture and unpacking the Gospel message that applies to our marriages. He emphasizes that sin is often at the root of relational conflict. He stresses the complementary design of God for man and woman. He preaches contentment and the role of mercy. He talks frankly about sex as God's gift for each spouse – to be mutually enjoyed. And he points to the power for change: God's stubborn grace.
The sessions are between 20 and 30 minutes long and focus just on Dave and his message. I appreciate this length as it allows the DVD series to be used both in SS classes and small group settings, or even as a seminar or workshop for a marriage retreat. The shorter time allows for questions and interaction by a local pastor or teacher who leads a group of couples through this material. Included with the video is a link to a .PDF study guide which can accompany the DVD and facilitate group discussion.
The series is appropriate for single adults as well, and they are from time to time addressed. It is also helpful for both older and younger couples — he speaks to the needs of both. In his talk on sex, Harvey is careful to be discreet and yet still direct.
The sessions do not major on the psychology of marriage. More time is devoted to unpacking and applying God's word and then drawing application to marriage. Harvey's advice is seasoned with years of ministry experience. He brings appropriate and helpful illustrations to capture the attention of the audience. And his insights are powerful and helpful. People in a variety of backgrounds and situations in life will benefit from this series.
I can't wait to share this in a group setting – either with our small group or a church SS class. I hope this gains a wide audience and encourages many a couple with Gospel grace for their marriage.
Sample:
See six preview clips here, or watch the introduction below.
About the Speaker:
Dave Harvey serves as the Pastor of Preaching at Four Oaks Community Church in Tallahassee, FL. He serves as the Chairman of the board of the Christian Counseling and Educational Foundation (CCEF), as well as the Chairman of the Board of the Sojourn Network. He is the author of a number of books, including Am I Called, Rescuing Ambition, and When Sinners Say "I Do." Dave lives in Tallahassee, Florida with his wife, Kim. They have four grown children.
Where to Buy:
• Amazon
• ChristianBook.com
• direct from Kregel
Disclaimer:
This DVD was provided by Shepherd Press via CrossFocusedReviews.com. The reviewer was under no obligation to offer a positive review.