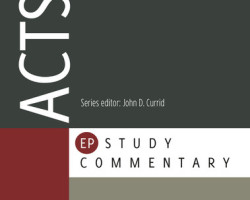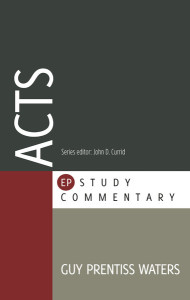 Commentaries come in all types and sizes. Some are daunting: a thousand pages long, detailed Greek and Hebrew in the body of the text, voluminous footnotes and interaction with a variety of ancient literature beyond the Biblical text itself. Others are a glorified sermonettes with a few points of application.
In the latest volume for the "Evangelical Press Study Commentary" series, Guy Prentiss Waters provides an accessible volume designed for the typical pastor or lay teacher today. He covers the book of Acts and his writing style is warm and inviting. The book is more of a survey of the interpretive landscape with a focus on what matters for pastors teaching through the text. There is not much discussion of Greek, and the footnotes routinely direct the reader to other resources for more detailed discussions of various questions.
This summary nature of the book may make it less useful to more versed scholars, but for the average pastor it clears the plate to focus on the good stuff. Additionally, Waters has combed through a variety of works and saved us the time by quoting the best portions of these commentaries and highlighting which discussions are worth interacting with in those other works. The book is long (614 pages), but the font is large with extra generous spacing, and even the footnotes are easily readable.
Waters approaches the text as a Reformed author, so he does not promote a charismatic reading of the text. He highlights the covenantal nature of the gospel emphasizing the household conversions that feature so prominently in Reformed defenses of paedobaptism. Another key feature of the commentary are the frequent application sections throughout the book.
This book will be useful in study, and prove to be a help for many. You don't have to just take my word for it, let me also share a few blurbs from prominent Evangelical leaders recommending this work.
Blurbs:
"Guy Waters's Study Commentary on the Acts of the Apostles is exegetically and theologically sound, cogently reasoned and clearly written. I highly recommend this commentary to pastors and teachers preparing to preach and teach Acts, and to anyone interested in a readable exposition of Luke's unique account of the risen Lord Jesus' words and deeds through his chosen witnesses."
—Dennis E. Johnson, Professor of Practical Theology, Westminster Seminary California
"In an age of multiplying commentaries, some of them very technical and some exceedingly popular, Guy Waters has contributed a mid- level work that is robustly theological, written in straightforward English, and designed to be edifying. This is a commentary that will make many friends among serious Bible readers."
—D. A. Carson, Research professor of New Testament at Trinity Evangelical Divinity School and co-founder of The Gospel Coalition
"Dr. Waters is the ideal commentator on Acts. Scholarly, pastoral, theological — all these and more combine in making this my first resource for Luke's second volume. An outstanding contribution to the series and deserving of the appellation, "Essential"!"
—Derek W. H. Thomas, The Robert Strong Professor of Systematic and Pastoral Theology, RTS Atlanta; Senior Minister, First Presbyterian Church, Columbia, SC
Where to Buy:
Pick up a copy of this book at any of the following online retailers: Amazon, ChristianBook.com, or direct from Evangelical Press.
Disclaimer:
This book was provided by Evangelical Press via CrossFocusedReviews.com. The reviewer was under no obligation to offer a positive review.
About Book Briefs: Book Briefs are book notes, or short-form book reviews. They are my informed evaluation of a book, but stop short of being a full-length book review.