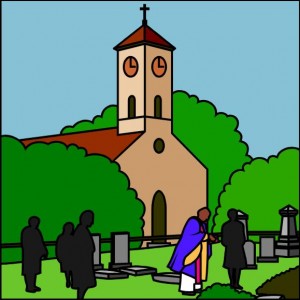 "I Want to Be More than a Sunday-Go-To-Meeting-Christian," says an old-time song. For many, that means we take pride in attending church every time the doors are open. Some church traditions have a mid-week service and others have a Sunday evening service, with many having both. These, of course, are in addition to the Sunday School hour and the Sunday morning worship service.
But in Evangelicalism lately, more and more churches are abandoning the Sunday evening service. Is this a move toward a "lite" version of Christianity? Are such churches compromising or lowering their standards?
Most of the time the answer is clearly no. There are a variety of reasons for abandoning the Sunday evening service. And one reason is that the tradition of a Sunday night service is relatively new. The notion of a Sunday evening service dates to the revivalist days of the 1800s where this service would often be evangelistic in nature – and an early draw was the modern innovation of gas lamps or even electric lighting. But this is not entirely a new idea. Earlier, in both the Reformed and Puritan traditions, there were often second services held in the afternoon (when it was still light). The second service was often for catechism, and spending the day at church helped prevent people from profaning the Sabbath.
There is nothing wrong with additional church services, but we must remember that the very notion of a church service is not possible in some scenarios where the church is persecuted. Certainly the custom of the Church has had to change over the years. It appears that an evening service was the only one possible when slaves were members in NT times (and they had to work 7 days a week). Culture and regional preferences resulted in a variety of traditions over the centuries. The Bible doesn't mandate specific meeting times, other than an emphasis on meeting on the Lord's Day. We should not be hesitant to adapt to the culture we find ourselves in. Our age is so busy, that packing in an extra service on the Lord's Day usually doesn't lead to a more restful and worshipful reality. More services might be better, but must all worship and study be done in a formal church gathering? In many churches, the faithful are worn out from all the service they render for the church and don't have enough energy left to get much out of the final service of the day. It seems the more active a church is, the more services it requires of its members–and the more obligated and stretched these members feel.
Many consevative churches eschew the evening service to make small groups easier to schedule. It isn't about avoiding church so much as encouraging more effective ministry and fellowship. Other churches don't want to ask too much of people preferring their members to focus on the primary message and enjoy rest and fellowship with their families.
An extra service may weigh down the congregation. It can become a measuring stick to see who is performing well. My legalistic heart and background probably clouds my perception, but I find such demands burdensome and have a hard time resisting the urge to measure up every chance I can. Worship should be about the Lord, not about us checking off boxes or jumping through hoops. Personally, I enjoy the freedom of an extra night with family – and more time to think on the things I've heard and studied. Every other Sunday afternoon we host a small group in our home. We can do this much more easily without the extra burden of another service.
I'm spurred to share my thoughts on this in light of a recent article from a Fundamental Baptist leader, Paul Chappel. His article is not intended to offend, but it is almost impossible not to read between the lines and see what he really thinks of churches that don't have a Sunday evening service. Another pastor recently shared a response that was charitably written and helpful. Reading the two posts back to back can give a fuller picture and provide a helpful contrast in evaluating this topic.
Don't get me wrong, Sunday evening services can be wonderful. There is nothing wrong with churches choosing to meet regularly in this way. But neither is there anything wrong with churches choosing to drop such a service. May we view people on both sides of this question with respect and love. May God bless us as we seek to follow Him more closely, in our families and our churches.
Here are the posts for your further consideration and I welcome any comments below.