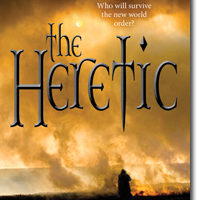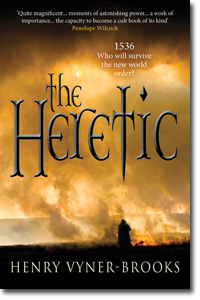 The year is 1536 and Henry the VII has just proclaimed himself head of the Church of England. The centuries-old way of life is changing with the arrival of new ideas and the winds of Reformation. Monks, nuns and their houses are in jeopardy, bishops must swear allegiance to the king's authority over the church, but things are even harder for Anabaptists who eschew both Rome and Canterbury.
This is the setting of a fast-paced, engrossing tale spun by Henry Vyner-Brooks. The Heretic follows the interwoven tales of an odd cast of misfit-heroes. An Anabaptist's orphan children, a leper, an eel-catcher and a prostitute — oh, and the monk whose past name is known throughout the land — these characters are richly developed as they weave in and out of a plot that includes stolen relics, ghastly murders, and enough chivalry and romance to picque the interest of a wide range of readers.
The book's Christian message lurks beneath the surface for most of the story. The struggle of faith and doubt, and the dangers of reading a heretic Bible are presented in a realistic manner that doesn't come off as wooden or forced. As a Protestant who has a positive view of the Reformation, the story's stress on the negative impact of closing the monasteries and ignoring the poor, as well as the political undercurrents behind such changes all conspired to complicate the clean history we prefer to remember. In this and other ways the tale is a challenge to all of us to come to grips with our faith and be willing to stand for what we believe.
One irksome blunder is the mention of Calvinism and Geneva. Calvin only came to Geneva in 1536, when this story commences. And while he may have been known, he certainly hadn't earned his reputation to the degree the book assumes.
At times, the story includes implausible elements, but on the whole, the story is rewarding and keeps you guessing. The end result is a medieval tale of suspense, mystery and a hint of romance that will make for pleasant and enriching reading. I highly recommend it.
Pick up a copy of this book at any of the following online retailers: Amazon, ChristianBook.com, or direct from Kregel (Lion's distributer in the US).
Disclaimer: This book was provided by Lion Fiction through Kregel Pulbications. The reviewer was under no obligation to offer a positive review.
About Book Briefs: Book Briefs are book notes, or short-form book reviews. They are my informed evaluation of a book, but stop short of being a full-length book review.