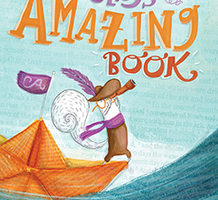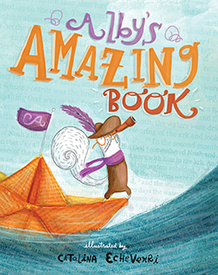 Wonder, excitement, adventure, the thrill of discovery — these qualities abound in young, eager minds. But we don't often associate these words with the Bible. In Alby's Amazing Book, illustrater Catalina Echeverri does an extraordinary job capturing this excitement and showing children that the Bible can be exciting too.
The book presents Alby, a squirrel, as an explorer who loves encountering adventures in the books he reads. Of course, in Alby's favorite book, there are all sorts of stories. But his favorite book is special in that he knows the Author. It is written to him with love, from God.
This accessible book is for young children but can be appreciated by upper elementary aged kids as well. The illustrations are engaging and invite closer scrutiny. Older children will catch that Bible verses and words form the background for many of the stories Alby encounters.
For an insight into the creation of this book, and the aim of the illustrator, take a moment to watch the book trailer below. This book will make an impression on young minds, and hopefully will lead many of them to pick up Alby's favorite book (the Bible) for themselves.
Book Trailer:
Pick up a copy of this book at any of the following online retailers: Amazon, ChristianBook.com, or direct from The Good Book Company.
Disclaimer: This book was provided by The Good Book Company via CrossFocusedReviews.com. The reviewer was under no obligation to offer a positive review.
About Book Briefs: Book Briefs are book notes, or short-form book reviews. They are my informed evaluation of a book, but stop short of being a full-length book review.