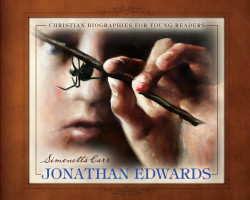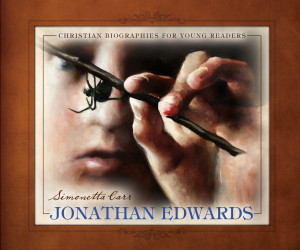 The Christian Biographies for Young Readers series introduces children to key figures from church history. Author Simonetta Carr and illustrator Matt Abraxas offer a compelling and beautiful historical account of the life of each Christian figure profiled in the series. To date, the series includes volumes on John Calvin, John Owen, Augustine of Hippo, Athanasius, Anselm of Canterbury, Lady Jane Grey, John Knox, and now, Jonathan Edwards.
Jonathan Edwards was a giant of man. He is remembered in many fields as a bright mind and a extraordinary thinker. So writing any children's book which does justice to the real Jonathan Edwards is a tall order. Simonetta Carr proves once again that she is up to the task of balancing historical accuracy and theological acumen with an eye to the attention span of young children.
An account of Edwards' life is provided with an emphasis on his children, and interesting historical details of the age. His work on how spiders sail through the forest, gliding on air, is sure to capture children's imagination. The account of Edwards' ten year old son spending a year away on a mission trip to Indians will demand attention as well. Edwards' theological contributions are explained but not detailed, and attention is focused on his care of souls and concern for the church.
This book is a joy to page through. Full color illustrations, photographs, portraits and maps, buildings and vistas appear at the appropriate time on each page. After the biographical sketch, a time line of Edward's life is included, as is an excerpt from a letter to one of his daughters. Also included is a "Did you know?" section for interested young readers. There we learn about how ink was made and quills trimmed for writing. We also find that Edwards had a fondness for chocolate, as a beverage for breakfast.
As a lover of chruch history, I appreciate Simonetta Carr's attention to detail and focus on historical accuracy. I learned many facts and saw Edwards in a new light, as a result of this children's book! I am thankful my children will have an opportunity to learn about Edwards by means of this helpful resource.
This book deserves a place of honor at the coffee table, but might end up in the kids' bookcase, more often than not. It also should find a place in church or school libraries. If you haven't picked up a title in the Christian Biographies for Young Readers series, now would be a good time. You won't be disappointed with Jonathan Edwards. Read also this earlier review of some of the previous titles in the series.
Pick up a copy of this book at any of the following online retailers: Amazon, Westminster Bookstore, ChristianBook.com, or direct from Reformation Heritage.
Disclaimer: This book was provided by Reformation Heritage Books via CrossFocusedReviews.com. The reviewer was under no obligation to offer a positive review.
About Book Briefs: Book Briefs are book notes, or short-form book reviews. They are my informed evaluation of a book, but stop short of being a full-length book review.