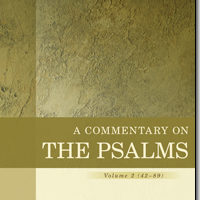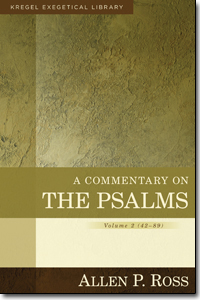 Volume 2 of Allen Ross's superb commentary on Psalms does not disappoint. It matches the excellence of his first volume, which I previously reviewed. Ross distills the insights of decades of research and study on the book of Psalms into a single tool that can truly be a one-stop-shop for the busy pastor. When the final volume of this commentary set is made available (later this year), students of the Word will have over 2700 pages of seasoned analysis and accessible information on all 150 Psalms.
Having provided a detailed introduction in his first volume, this book starts right up with Psalm 42, and continues through Psalm 89. Ross covers each psalm separately. He begins with his own translation of the text complete with footnotes pointing out meaningful textual variants. The psalm's composition and context is then briefly sketched and an exegetical analysis (or outline) is provided. Then comes a detailed verse-by-verse commentary focusing on exposition, and all this is wrapped up with a brief recounting of the message and application of the psalm.
Ross aims to help modern preachers and teachers to truly exposit all of the psalms in their entirety (not just a line here and there). He blends contemporary insights with gems of yesterday as he analyzes the Psalms and provides a very useful tool for the modern preacher. Ross with help from the team at Kregel, has crafted his tool to be most user-friendly. The font is large, there are helpful charts and diagrams, and clear section headings which break up the massive book. He uses footnotes throughout for more technical discussions, but chooses not to provide Hebrew transliterations as a rule, preferring just English translations and the Hebrew words themselves.
Ross's approach sticks to the text and emphasizes linguistic study. He does comment on the use of the Psalms in the New Testament and is not afraid to mine the typological and messianic riches so often found in Psalms. Biblical theology, and intratextual allusions and connections are not featured prominently in his work. But his volume is a wealth of information for the busy pastor or lay teacher, and his care with the text is commendable.
I will be looking for volume three of this important set. I'm sure it will make a valuable addition to your church or home library. Pastors and students alike will want to pick up this resource and with Ross's help unpack the riches to be found in the Hebrew Psalter.
Pick up a copy of this book at any of the following online retailers: Westminster Bookstore, Amazon.com, ChristianBook.com, or direct from Kregel.
Disclaimer: This book was provided by Kregel Academic. The reviewer was under no obligation to offer a positive review.
About Book Briefs: Book Briefs are book notes, or short-form book reviews. They are my informed evaluation of a book, but stop short of being a full-length book review.