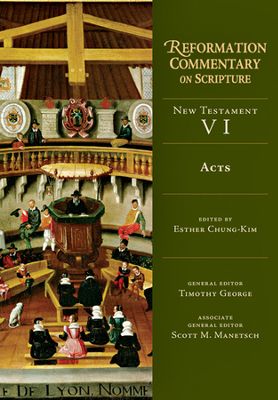 Reformation Gems are excerpts from selections contained in the Reformation Commentary on Scripture, a new commentary series from IVP which gathers the best Reformation-era comments on the text together all in one set. The volumes in this commentary series resurrect long-forgotten voices from the Reformation age and in so doing they recover the piety and vivacity of that era. I hope that by sharing some excerpts from this series, I will edify my readers and promote this important commentary series.
_ _ _ _ _ _ _ _ _ _ _ _ _ _ _ _ _ _ _ _ _ _ _ _ _ _ _ _ _ _ _ _
Today's selection comes from the latest volume in the Reformation Commentary on Scripture series: Volume VI (Acts). I turned to Acts 16:14, and the story of Lydia's conversion, looking for Reformation-era comments on that classic text on God's opening Lydia's heart to pay attention to the message. I was not disappointed and found a gem in the words of Konrad Pellikan, a German scholar who worked closely with Ulrich Zwingli in the Swiss reformation. I appreciated both his observations on the nature of faith, as well as his practical application to "pray to the Lord to open our heart."
Here is the excerpt from Pellikan's commentary on Acts, originally published sometime between 1532-1539 (with key sentences bolded for emphasis):
Lydia's Faith a Gift of the Holy Spirit.

Konrad Pellikan: The gospel usually bears the greatest amount of fruit where it is least expected…. With Lydia we can compare how Paul was cast out of Antioch by religious women who were overly zealous for God but lacking in understanding. This excellent mother and merchant, however, understood the gospel and repented of her sins. And she became repentant not by nature but by grace. the Lord, it says, opened her heart to pay attention to what Paul was saying. For no one can have faith in the gospel by his own strength, but only by the gift of the Holy Spirit, and not because he has faith beforehand. Therefore, on hearing the promises of the gospel, let us despair concerning the power of the flesh, but let us pray to the Lord to open our heart, to give us the gift of the Spirit, to put relief in our heart and to fill us with the work of righteousness. (pg. 228)

About the Reformation-era author: Konrad Pellikan (1478-1556). German Reformed Hebraist and theologian. Pellikan attended the University of Heidelberg, where he mastered Hebrew under Johannes Reuchlin. In 1504 Pellikan published one of the first Hebrew grammars that was not merely a translation of the work of mediaeval rabbis. While living in Basel, Pellikan assisted the printer Johannes Amerbach, with whom he published some of Luther's early writings. He also worked with Sebastian Munster and Wolfgang Capito on a Hebrew Psalter (1516). In 1526, after teaching theology for three years at the University of Basel, Huldrych Zwingli brought Pellikan to Zurich to chair the faculty of Old Testament. Pellikan's magnum opus is a seven-volume commentary on the entire Bible (except Revelation) and the Apocrypha: it is often heavily dependent upon the work of others (esp. Desiderius Erasmus and Johannes Oecolampadius). (pg. 399)
Learn more about this commentary series at the Reformation Commentary page at IVPress.com, or check out this sampler (PDF). You can pick up a copy of Reformation Commentary on Scripture: Volume XI (Galatians, Ephesians) at any of the following online retailers: Westminster Bookstore, Amazon.com, Christianbook.com, or direct from IVP. You may want to consider becoming a member with IVP and getting the entire series on a subscription discount of more than 40% per volume.
Disclaimer: This book was provided by IVP. I was under no obligation to offer a favorable review.