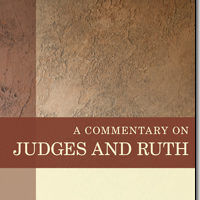 Commentary Roundup posts are a series of short reviews or overviews of Bible commentaries. I'm working my way through a variety of commentaries, new and old, and hope to highlight helpful resources for my readers.

Book Details:
• Author: Robert B. Chisholm, Jr.
• Publisher: Kregel Academic (2013)
• Format: hardback
• Page Count: 688
• ISBN#: 9780825425561
• List Price: $39.99
• Rating: Highly Recommended
Publisher's Description:
A thorough exegetical and homiletical analysis of each passage of Judges and Ruth.
This commentary sheds exegetical and theological light on the books of Judges and Ruth for contemporary preachers and students of Scripture. Listening closely to the text while interacting with the best of scholarship, Chisholm shows what these books meant for ancient Israel and what they mean for us today. In addition to his perceptive comments on the biblical text, he examines a host of themes such as covenants and the sovereignty of God in Judges, and providence, redemption, lovingkindness, and christological typology in Ruth.
Of special interest is Chisholm's introduction to Judges. In it he asks and answers some difficult questions: What is the point of Judges? What role did individual judges play? What part did female characters play? Did Judges have a political agenda?
Chisholm offers astute guidance for preachers and teachers by not only providing insightful exegetical and theological commentary but also by offering homiletical trajectories for each passage to show how historical narrative can be presented in the pulpit and classroom for rich, responsible sermons and lessons.
Commentary Type:
This is a technical/semi-technical commentary that provides both a detailed exegetical analysis of the Hebrew text and a variety of homiletical helps for applying the message of the text for today's hearers.
Structure and Features:
Robert Chisholm's Commentary on Jugdes and Ruth is organized in such a way as to provide the most help for the busy preacher or teacher who will use this volume to help in preparing to teach through these books for the benefit of the church.
Each Bible book gets a detailed and incredibly helpful introduction. Questions of authorship, date and genre are covered, as are practical concerns like what to make of the dates in Judges, and how best to understand the structure of the content in each book. Chisholm displays a concern for the literary and canonical context of these books, spending some time discussing where Ruth should fall in the order of the canonical order, and how each book fits into the larger themes of this section of the Bible. Included in the introduction are a survey of available commentaries for each book, and a helpful discussion of homilitecial strategies and a sample sermon series for each book.
After the introduction, each Bible book is divided into sections. Each section of the text is then methodically studied: first the translation (Chisholm's own, a slightly revised version of that he supplied for the NET Bible) is provided in segments, line by line – and arranged in such a way as to highlight the narrative structure. Clauses are categorized as "sequential" or "consequential," "resumptive" or "supplemental," "focusing" or "dramatic," and etc. Back in the introduction, Chisholm gives an explanation of the narrative structure of each book and which Hebrew grammatical clues (wayyiqtol and weqatal clauses, negated and asyndetic perfects, and more) lead him to these syntactical conclusions. Important translational and syntactical notes appear in the footnotes in this section (and the footnotes are nice and easy to read, as is the font throughout the volume).
After offering the text and structure, the commentary provides an outline and then discussion on the literary structure. Next is a detailed exposition section, followed by an application section which fleshes out the thematic emphases, theological principles, and offers homiletical trajetories and preaching ideas. Finally an extensive list of references follows to round out the volume.
Excerpt:
This excerpt is taken almost at random, it illustrates Chisholm's attention to detail and interaction with the Hebrew text. Normally Chisholm will offer translations for Hebrew words in the commentary, but not always, as this passage illustrates. I am not going to reproduce the ten footnotes that are interspersed throughout this section. Hopefully this excerpt will give you a flavor of Chisholm's care in handling the text. The section concerns Judges 5:24-27.
Willing, able, and energetic Jael stands in stark contrast to unwilling, passive, and accursed Meroz (vv. 24-27). She receives a special blessing for her loyalty to Israel and the Lord. When opportunity came her way she marshaled her cunning and strength to destroy the enemy general.

This poetic account abridges and streamlines the earlier narrative in some respects, but also highlights Jael's cunning and effectiveness through additional information and the poetic device of repetition. In the poem we read nothing of Sisera's arrival or of Jael's initial gestures of apparent concern. Instead the focus is on her offer of milk. THe narrative tells how she gave him milk when he asked for water; the poem adds that she brought him curdled milk in a bowl fit for a noble, which he must have seen as an obvious gesture of loyalty. The poem mentions nothing of Jael's tucking Sisera into bed; instead it focuses on the deadly deed. The narrative account uses only one verb to describe the murder stroke (see 4:21); the poem employs four synonyms, emphasizing the deadly force of the blow and forcing us to replay it in our minds. THe narrative, while describing how the peg went through his skull into the ground, notes simply that he died (4:21-22); the poem uses seven finite verbal forms (כּרע and נפל appear three times each, and שׁכב once) to emphasize the efficiency and finality of the deed). The repetition serves to "slow the action almost to a standstill in order to allow the audience to vent their hatred of the Canaanites as they savor Sisera's fall." It also repeats the location of his death ("between her legs") to set up an ironic connection with verses 28-30 (on which, see below), and concludes with a resounding passive form, "murdered" (שׁדוּד, literally, "violently destroyed, devastated").

The narrative informs us that Jael killed Sisera while he was fast asleep (4:21), but the poem depicts her deed as a heroic military act. It makes no reference to Sisera sleeping (though v. 25b might suggest as much) and describes Jael's actions as an aggressive attack–she grabs her weapons and strikes. It then depicts Sisera as slumping to his knees and falling to the floor, as if she struck him down while he stood before her. Rather than trying to harmonize the accounts at the literal, factual level, it is probably better to see the poem as a creative figurative version of the story designed to magnify Jael and to lampoon the Canaanite general, whose capitulation to Jael's deceit was tantamount to being defeated by her in hand-to-hand combat. For a warrior to die at the hands of a woman was considered utterly humiliating (see Judg. 9:54), but in this case it was appropriate, for the fleeing Sisera is viewed as cowardly. (pg. 240-243)
Evaluation:
This is an accessible and immensely helpful volume. It is written with a pastoral heart. I appreciated its Christological emphasis, and willingness to examine the typological connections between Judges and Ruth and the other books of the Bible (as in Othniel's identity as the archetypal judge against whom David must measure up, and the echoes of Samson's shortcomings in Saul's inglorious career as outlined in the books of Samuel).  The discussion on the dates in Judges was incredibly helpful, as was the section on the role of female characters in Judges, and how they pave the way for Hannah's account which opens up 1 Samuel.
Chisholm has a mastery when it comes to Hebrew grammar, and I appreciate how he interacts with the text and helps us see the narrative flow intended by the biblical author. His eye for literary connections and the interplay of various genres, make this volume more useful and full-orbed. His interaction with the full breadth of scholarship related to these books, inform and guide the reader in their study of the text.
This commentary is a must-have for every pastor. The combination of practical and homiletically helpful, with technical and exegetically robust is unmatched. No matter your level of familiarity with Hebrew, interacting with this volume will be worth your time. If you skip the footnotes and just interact with the text you will still be rewarded for your effort. I highly recommend you consider picking up this volume and exploring other titles in the Kregel Exegetical Library.
About the Author:
Robert B. Chisholm Jr. (ThD, Dallas Theological Seminary) is Department Chair and Professor of Old Testament Studies at Dallas Theological Seminary. He is a translator and the Senior Old Testament Editor of the NET Bible. Chisholm's other publications include Interpreting the Minor Prophets, Handbook on the Prophets, and A Workbook for Intermediate Hebrew.
Where to Buy:
• Westminster Bookstore
• Christianbook.com
• Amazon.com
• Direct from Kregel
Disclaimer:
This book was provided by Kregel Academic. I was under no obligation to offer a favorable review.