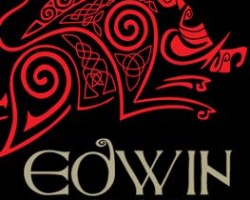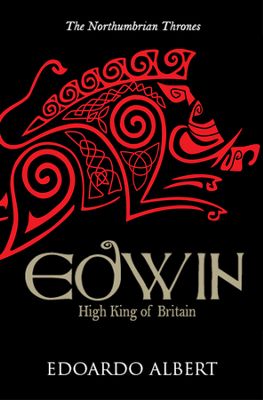 Arthur and his knights of the round table, are phantoms from a long gone era. Their story is a myth, and they are warriors only in imaginative retellings of their deeds. But the story told in Edwin: High King of Britain is a legend of a different kind. Edwin is a figure from history. And early seventh century England, where Edwin arose as a dominant king, is every bit as mythic and alien to our minds as the legendary kingdom of Camelot.
Edoardo Albert, writer and historian in his own right, tells the story of Edwin with as much power as any scop or bard from times past. Edwin is a fictional account yet most of its key plotlines and characters are historical. The book is the first in a trilogy called The Northumbrian Thrones.
The tale is fast paced and moving. Albert adds such historical detail that he makes you believe you are there. The struggle of Edwin to embrace a new religion, that of Christianity, is also told in a realistic, believable way. The Norse warrior gods of Woden and Thunor are only reluctantly left for the strange God whose way is to deny vengeance and forgive one's enemies. Edwin is no saint, but a leader and champion he is. Yet as the tale progresses, we will learn he is as mortal as anyone, even with his new God.
The story is engaging and true to life, but clean enough even for teen-age readers. Yet the tale is not safe: this is a raw and rugged account of a brutal age.
The history of medeival Britain has long fascinated me and so I thoroughly enjoyed this book. If you enjoy fantasy fiction in the vein of J.R.R. Tolkien, Terry Brooks, or Stephen Lawhead, this book will delight. Learning that it is mostly true to life will surprise you as it did me. I encourage you to give it a try.
Right now, the Kindle version of this book is only $1.99. I'm not sure how long that will last, but you can't go wrong at that price!
Pick up a copy of this book at any of the following online retailers: Amazon, ChristianBook.com, or direct from Kregel.
Disclaimer: This book was provided by Lion Hudson via Kregel Books. The reviewer was under no obligation to offer a positive review.
About Book Briefs: Book Briefs are book notes, or short-form book reviews. They are my informed evaluation of a book, but stop short of being a full-length book review.