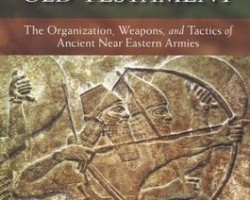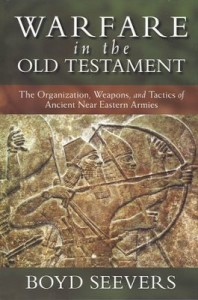 Book Details:
• Author: Boyd Seevers
• Category: Biblical Studies
• Book Publisher: Kregel Academic (2013)
• Page Count: 320
• Format: hardcover
• ISBN: 9780825436550
• List Price: $34.99
• Rating: Recommended
Review:
Most of us experience warfare only through classic "war movies" or by means of game like Risk. Oh, but then there are the stories in Sunday School too! We hear of David and Goliath, the conquest of Canaan, and the sack of Jerusalem. In truth, tales of war are foreign to our very makeup. If we haven't served in the armed forces, we cannot really appreciate all that goes into fighiting for one's land and the sacrifice and honor it brings.
Warfare was a fact of life in the ancient Near East (ANE), and Bible characters, like everyone else, were affected by the ebb and flow of the seasons, and "the time when kings go out to battle" (2 Sam. 11:1). The Bible is written in this context of ANE warfare and assumes we know what chariots and javelins are, and why it is that a people would want a king to "go out before us and fight our battles" (1 Sam. 8:20). (Chariots, by the way, were less like tanks and more like mobile platforms for archers.)
Boyd Seevers gives us a tool in understanding the concept of war in ANE history with his new book Warfare in the Old Testament: The Organization, Weapons, and Tactics of Ancient Near Eastern Armies. In this accessible and attractive volume, he itemizes the implements and tools for war as found in the dominant cultures represented in the Old Testament: Philistia, Egypt, Assyria, Babylon, Persia, and of course, Israel.
Strategy, history, numbers and weapons, boats and chariots, siege engines, and armor — all these and more are described in the detail a bible geek or armchair archeologist-historian will love. Maps, drawings, diagrams and sketches fill the pages like a technical manual. Interesting facts are highlighted, like the difficulties with the Hebrew number system, the fact that Akkadian was a lingua franca as far back as the fourteenth century BC, and Persia's invention of the first true "pony express."
Seevers doesn't just present dry historical facts ad nauseum, however. He offers fictional vignettes of typical soldiers on a campaign before each discussion of the military history of a given culture. This draws the reader in and adds the tool of imagination which helps flesh out the incomplete picture that too often emerges after the archeological digs are done sifting through what remains we have left. His style is inviting, even if at times his rigid arrangement of the material comes off somewhat wooden.
This book will help situate the student of OT history, and will make a good addition to any scholar's library. It may interest the casual reader, but it may not. The laser focus of the material will not appeal to everyone, but for those who are interested, Seevers leaves few stones unturned.
About the Author:
Boyd Seevers (PhD, Trinity Evangelical Divinity School) is professor of Old Testament studies at the University of Northwestern St. Paul. He is an expert on ancient warfare and has participated in numerous archaeological excavations in Israel. He lived in Israel for eight years, during which time he was a visiting professor at Jerusalem University College. He has written numerous articles for the Baker Illustrated BIble Dictionary and was the author of "Joshua" and "Daniel" in What the Old Testament Authors Really Cared About.
Where to Buy:
• Amazon
• ChristianBook.com
• direct from Kregel
Disclaimer:
This book was provided by Kregel Publications. The reviewer was under no obligation to offer a positive review.