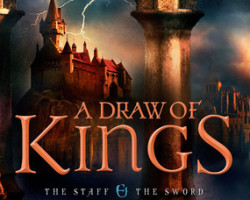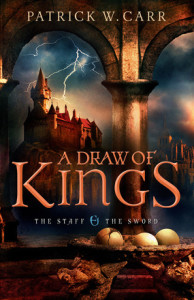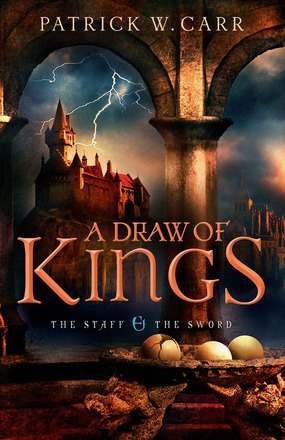 Book Details:
• Author: Patrick W. Carr
• Category: Fantasy Fiction
• Book Publisher: Bethany House (2014)
• Page Count: 212
• Format: softcover
• ISBN: 9780764210457
• List Price: $14.99
• Rating: Must Read
Review:
If you are looking for a thrilling adventure, something comparable to Tolkien's MiddleEarth, or Lewis's Narnia, look no further than the kingdom of Illustra and Patrick W. Carr's "The Staff and the Sword" series. A Draw of Kings is third and final installment of this series and is satisfying in every way.
The setting of this tale is a medieval kingdom where the crown and the church hold sway over the lives of its people. But mythic tales of antediluvian monsters turn into stark reality as evil threatens to overtake the good kingdom of Illustra. The hero of the books is an unassuming misfit, Errol Stone, who rises from a lowlife drunken teenager to become a true hero of the land. He learns he is a reader, one who can cast lots in wood or stone. But he isn't just any reader, he is a special omne and can read any other reader's lot.
In A Draw of Kings, Errol faces his destiny, throwing himself into the desperate quest for some boon to save the land from sure defeat. No one knows who will be the next king, and every attempt to find out by casting lots ends in bewilderment. Without a king they are surely doomed. Their God's blessing depends on the barrier made with blood, and that barrier is weakening. Stone must rescue a lost treasure and restore it to the kingdom. Then he must look his love in the eye and forsake her to save the realm. Will he have courage? Is his destiny to die? Will Illustra be spared a cruel demise? These questions are answered in a compelling way in the thrilling conclusion to this saga.
The books in this series are superbly written, the tale is engrossing. This is a page turner with a surprising amount of depth. It isn't a direct allegory like at times the Chronicles of Narnia seem to be. Nor does it have its own language and ethos completely, as does The Lord of the Rings. But this series is in the same vein. Carr crafts a Christian world, with a sacred history, and a classic good versus evil fight. The hero must sacrifice his own desires and beyond this there are even more parallels with Christian themes. A doctrine and tradition-oriented church cannot accept the religion of the mystics and their faith in the Spirit of God, and an ancient book of the sacred history of Illustra has been lost. Sound familiar? I appreciate though, that the book never comes off as a direct allegory and doesn't preach a moral or lesson to learn. It is a story first and foremost.
I would compare the power and beauty of the story to the Sword of Shanarra series by Terry Brooks, or any of several series written by Stephen R. Lawhead – both favorite authors of mine. Patrick W. Carr joins them as this is the best fantasy series I have read in years.
If you are looking for some new fiction to add to your shelf, this is the series for you. Preview the first 40 pages of this book, or pick up the first book in the series on Kindle for free (for a limited time). And be sure to enter a contest (US/CA only) to win one of two free sets of all three books in the series.
About the Author:
Patrick Carr was born on an Air Force base in West Germany at the height of the cold war. He has been told this was not his fault. As an Air Force brat, he experienced a change in locale every three years until his father retired to Tennessee. Patrick saw more of the world on his own through a varied and somewhat eclectic education and work history. He graduated from Georgia Tech in 1984 and has worked as a draftsman at a nuclear plant, did design work for the Air Force, worked for a printing company, and consulted as an engineer. Patrick's day gig for the last five years has been teaching high school math in Nashville, TN. He currently makes his home in Nashville with his wonderfully patient wife, Mary, and four sons he thinks are amazing: Patrick, Connor, Daniel, and Ethan. Sometime in the future he would like to be a jazz pianist. Patrick thinks writing about himself in the third person is kind of weird.
Where to Buy:
• Amazon
• ChristianBook.com
• direct from Bethany House
Disclaimer:
This book was provided by Bethany House via Chapter-by-Chapter.com. The reviewer was under no obligation to offer a positive review.