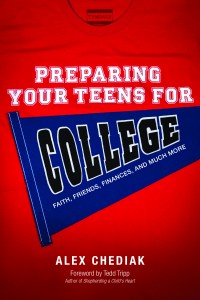 One of the more important books that I've received recently, is Preparing Your Teens for College: Faith, Friends, Finances, and Much More by Alex Chediak (Tyndale House, 2014). This book is carefully designed and filled with practical resources for parents and their teenagers. In the areas of character, faith, relationships, finances, academics and ultimately the college decision, the book lays out 11 conversations that parents should have with their children. The book builds on Alex's other book, Thriving at College (for teens). You can read my review of that earlier title, as well as his excellent little book on marriage.
Preparing Your Teens for College releases this week, and I wanted to point out this excellent resource which I hope to review more fully in the near future. You don't have to take my word for how excellent this book is, I'm including some of the 16 glowing endorsements that grace the book's first few pages.
"Preparing Your Teens for College is an outstanding book about preparing teens for adulthood whether or not they go to college. Every parent who wants his or her teen to make a successful transition to young adulthood will profit from this book.
—Jerry Bridges, Author, The Pursuit of Holiness

"Alex proposes a wide-ranging series of conversations for parents to have with their teens: conversations about being responsible, forming good friendships, understanding faith, living as a Christian in ways that are wise and gracious, being smart with money, maintaining personal purity, living from convictions, discerning talents, working diligently unto the Lord, and many other topics. Parents who engage their teens in the ways Alex recommends will accomplish things that cannot be achieved through any exercise of parental authority…I am happy to recommend this book as a sharp tool for Preparing Your Teens for College."
—Tedd Tripp, Author of Shepherding a Child's Heart

"Packed with biblical insight and practical wisdom. Should be required reading for all parents in preparation for the "bittersweet sorrow" of seeing our children in the rear view mirror as we drive away from the college campus."
—Alistair Begg, Senior Pastor, Parkside Church

"This book helps calm parents' fears in sending their children to college. With tremendous insight and wisdom, Dr. Chediak helps to prepare parents to prepare their children for college. I know of no other book that deals with many of the hard questions this book helps to answer."
—Burk Parsons, Co-pastor, Saint Andrew's Chapel, Editor, Tabletalk magazine

"This book does more than show parents that they can prepare their children for college. It offers specific, practical, wise advice on the larger task of raising teenagers, including topics that often prove most daunting for parents: instilling sexual morality, forming positive friendships, dealing with peer pressure, handling social media, and internalizing their faith. In addition to useful tips for helping sons and daughters choose and succeed in higher education, whether at a university or a trade school, this book can function as a guide for Christian families in one of the most important tasks of parenthood: teaching children how to be adults."
—Gene Edward Veith, Professor of Literature and Provost of Patrick Henry College
Consider picking up the book at Amazon, Westminster Bookstore, Christianbook.com, or direct through Tyndale House. To learn more about the book, check out the author's website where you can read all the endorsements as well as a book excerpt.
Disclaimer: This book was provided by Tyndale House. I was under no obligation to offer a favorable review.