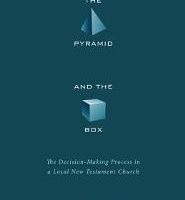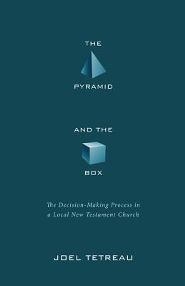 Book Details:
• Author: Joel Tetreau
• Category: Church and Ministry
• Book Publisher: Wipf and Stock Publishers (2013)
• Page Count: 212
• Format: softcover
• ISBN: 9781620326367
• List Price: $23.00
• Rating: Must Read
Blurbs:
"You are holding a great handbook on decision-making for every local church. I commend Joel's insights into biblical decision-making — here are some profound new insights into how it should be done."
—Hans Finzel, author of The Top Ten Mistakes Leaders Make
"Joel's book is both needed and refreshing. It is needed because church leadership needs clear exegetical direction, and it is refreshing because Joel puts truth into usable shoe leather for today's church."
—Daniel Davey, President and Professor of Biblical Exposition, Virginia Beach Theological Seminary
"Dr. Tetreau's approach is theologically rich, exegetically sound, biblically shaped, and eminently practical for both the teaching-shepherd and the people of God in the body of Christ. I have every confidence that his seminal work in this book will benefit multiples of ministries."
—Doug McLachlan, former President of Central Baptist Theological Seminary, Minneapolis, MN
Overview:
Much has been written on how to do church. Church should be purposeful, simple, deliberate or missional. The building must be inviting and the service disarming. Or the answer might be: we need to major on small groups or a downplayed doctrine. The answers and strategies are as varied as they are plentiful, and the books keep coming as fast as the presses can run. All this attention is not without some merit. There have been some excellent books published and taking time to think through how we do church is certainly time well spent. But of all the books I have seen on the subject of how to do ministry, not a single one is devoted strictly to how decisions should be made in a local church. This important ministry "how to" gets a full Scriptural treatment in Joel Tetreau's book The Pyramid and the Box: The Decision-Making Process in a Local New Testament Church.
Twenty years of pastoral ministry stand behind this book. It was written in part "to shed light on the destructive power of poor decision-making" (p. xi). The book gets its title from two versions of an "institutional" church: "The Pyramid" illustrates the "power-hungry" pastor, who is like "an Egyptian pharaoh, sitting on top of his own pyramid… his own domain" (p. 8). "The Box" illustrates an institutional church consumed more with its "budget, buildings and reputation" than with its people. With both of these approaches to ministry, churches are "acting like cut-throat corporations" who are "willing to discard families or use up individuals" (p. 9). In contrast, "the family church is willing to 'sell the farm' if necessary for the sake of its members" (p. 8).
The book is well designed and carefully laid out with key chapter principles summarized at the beginning of each chapter, and a clear and helpful outline. The book spells out in very practical ways, all the considerations that need to go into decision-making in the context of the local church. After setting the stage for how vital decision-making is, Tetreau presents a biblical theology of decision-making in his first main chapter. Next he examines the different levels of decision-making made by the various members of the church: the decision-making role of the senior pastor, the elders, the deacons, the congregation and then each church member. The book then turns to how to recover from bad decisions and concludes with a summary of the principles that should inform decision-making in the local church.
At the beginning of the book, Tetreau explains that the leadership principles for decision-making that he finds in Scripture "can give concrete help, no matter what form of polity a local church prefers" (p. 12). An honest read of this book will benefit pastors and congregations from a variety of different backgrounds. Tetreau prefers a model with a senior pastor who is the "first among equals" with respect to a plural body of elders. Deacons play a role as well, as does the congregation and its authority. The balance of power and responsibility will vary among different church models: some will not have an elder board, some will not prefer the idea of a senior pastor, but the principles in this book truly will be a benefit to all kinds of churches.
Quotable:
The following excerpt illustrates the problem with "the Pyramid" approach to decision-making.
The pyramid approach places one man at the top of the pyramid. He directs many resources to a project in order to achieve the goals he has in his mind quickly. In some cases, this one man is the senior pastor; in other cases, he is the chairman of the deacon board. IN a few confused situations, these two may fight for the top position within the pyramid, straining the entire structure. In any case, the strict pyramid approach identifies one man as the only person who can make the final decision on just about everything. This leader may become such a CEO that he loses touch with the shepherding side of ministry altogether. These ministries and organizations display very centralized leadership.

The pyramid approach may lead to ecclesiastical demagoguery on the part of the leader. Everyone assumes that all decisions must have one individual's approval before they can be implemented. Too often, the assumption is that the chairman or the pastor always knows best, even when the item falls outside the leader's area of expertise. These leaders can display a harsh and unloving demeanor. While a godly leader might be forceful or show strong emotion, he is to have that energy checked by a personal code of conduct and character that is consistent with 1 Timothy 3 and Titus 1. (p. 87)
Evaluation:
Tetreau lays out a biblical vision for a vibrant local church ministry with each member playing their part and applying the Scripture to areas where they have decision-making authority. His years of pastoral experience inform and illustrate the work, providing humor and caution, and wisdom. He pieces together helpful quotes and critiques opposing leadership models. And throughout the book, he turns to a careful exegetical focus on the text. The book doesn't provide all the answers for every question. He doesn't explore the question of women's ministry in a church in too great a detail, and his chapter on deacon ministry doesn't fully address their particular role and how they should or could serve in churches today. But he does take time to address so many other practical areas. He discusses how and when not to defend your self; when it is best to stay in a church and push for growth, and when it is best to leave—and how exactly to go about leaving. His bent toward practical applications brings him to address the "worship-wars" and the problem of emphasizing each and every doctrinal position as being fundamental in nature. He spares no punches in opposing a legalistic spirit that is lurking in some fundamental churches, and tries to push for a focus on discipleship and servant-leadership rather than a ministry-first mindset.
Recommendation:
This book is a handbook for church leaders and a blueprint for a healthy New Testament church. Tetreau's contribution offers the next generation of church leaders a steady compass from which to chart a sure course for fruitful ministry.
About the Author:
Joel Tetreau (M.Div, Detroit Baptist Theological Seminary; D.Min, Central Baptist Theological Seminary, Minneapolis), is Senior Pastor of Southeast Valley Baptist Church in Gilbert, AZ. He is Regional Coordinator for the Institute for Biblical Leadership (West), and has over twenty years of ministry experience. Joel has taught at the undergraduate and graduate levels and serves on the boards of several parachurch ministries.
Where to Buy:
• Amazon
• Christianbook.com
• Direct from Wipf and Stock
Disclaimer:
This book was provided by the author. The reviewer was under no obligation to offer a positive review.