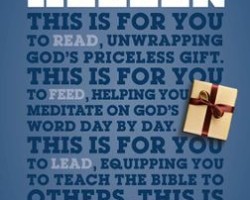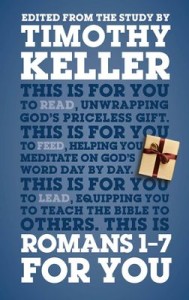 Commentary Roundup posts are a series of short reviews or overviews of Bible commentaries. I'm working my way through a variety of commentaries, new and old, and hope to highlight helpful resources for my readers.

Book Details:
• Author: Timothy Keller
• Series Editor: Carl Laferton
• Publisher: The Good Book Company (2014)
• Format: hardback
• Page Count: 208
• ISBN#: 9781908762917
• List Price: $22.99
• Rating: Highly Recommended
Series Description:
Each volume of the God's Word For You series takes you to the heart of a book of the Bible, and applies its truths to your heart. The central aim of each title is to be:
Bible centered
Christ glorifying
Relevantly applied
Easily readable
Each title in the series can be used "To read… as a book that explains and explores the themes, encouragements and challenges of this part of Scripture. To feed… as part of personal devotions, or alongside a sermon or Bible-study series. Or, to lead… as a resource to help one teach God's word to others, both in small-group and whole-church settings."
Commentary Type:
This is a devotional, introductory-level commentary designed for personal reading and growth rather than a technical commentary.
Special note: The series introduction on page 5 states: "These books are not commentaries." I respectfully disagree. This title is more accessible than the average commentary, but still functions much like a commentary, so I am treating it as if it is a commentary.
Structure and Features:
Romans 1-7 For You includes an introduction to the Book of Romans. Each textual section in Romans 1-7 is covered in a chapter, which is then split into roughly two equal parts. At the end of each part are three "Questions for Reflection." The Scripture text is not included in the commentary, but verse references from Romans are bolded to help the reader follow along in the commentary as he reads the Bible text. At the end of the book is a glossary where bolded words in the commentary are defined. Following this are three appendixes and then the bibliography. The first appendix is a helpful summary of Paul's flow of thought through the first seven chapters of Romans. The next appendix defines idolatry and explores how to identify and dismantle the idols of the heart — those underlying motives that stand behind our sins. The last appendix is a brief, two and a half page discussion of the recent debate over the New Pauline Perspective and how that impacts our understanding of Romans. He concludes that it doesn't require a completely new reading of Romans, while it can add to our understanding here and there.
Throughout Keller's discussion of the text are pastoral nuggets of wisdom. Quotes become sidebars in the text to encourage the reader to continue reading. Lists of three reasons for this, or three kinds of churches, and other pastoral wisdom are brought to bear on the text. This is fitting for a devotional commentary where the comments need not directly flow from the text itself. Yet Keller's comments are not just devotional. He draws careful distinctions from the text, such as pointing out how the aorist tense in Romans 5:12c indicates all of humanity sinned corporately when Adam fell. The commentary aims to illumine the Scriptural text and does just that in a variety of ways.
Excerpt:
Like most books I have read by Tim Keller, there are several fantastic quotes and extremely helpful insights or ways of putting things. I wanted to provide an excerpt which gives the flavor of the commentary as a whole, and also hones in on the important message of Romans 1-7. This excerpt is from the section on Rom. 3:21-31.
"But" is a word that reverses the statement which has gone before; it can qualify praise, or bring hope where there seemed to be none. This is why there are few words more glorious than the "but" that begins Romans 3:21. "No one will be declared righteous … through the law we become conscious of sin" (v 20)… But… Paul now turns from the black cloth of human sin to hold up the glittering diamond of the gospel.

Righteousness and Justification

The gospel, as we know from 1:17, reveals a "righteousness from God" (3:21); or "the righteousness of God" (ESV). It is a righteousness displayed; but it is also a righteousness granted. Our translations sometimes obscure this, but the words "righteousness" and "justified" in these verses are all the same word: dikaiosune. So, verse 21 could read: But now a justification from/of God has been made known; verse 24 could be translated: and are righteousnessed freely.

Righteousness is a validating performance record which opens doors. When you want a job, you send in a resume. It has all the experiences and skills that make you (you hope!) worthy of the position. You send it in and say: Look at this. Accept me! Your record has nothing on it that disqualifies you from the job; and it has (you hope!) everything that will qualify you for it.

Every religion and culture believes that it's the same with God. It's not a vocational record; it's a moral or spiritual record. You get out your performance record and if it's good enough, you're worthy of life with God and you're accepted. And then Paul comes along and says: But now… For the first time in history — and the last — an unheard of approach to God has been revealed. A divine righteousness — the righteousness of God, a perfect record — is given to us.

No other place offers this. Outside of the gospel, we must develop a righteousness, and offer it to God, and say (hopefully and anxiously): Accept me. The gospel says that God has developed a perfect righteousness, and he offers it to us, and by it we are accepted. This is the uniqueness of the Christian gospel; and it reverses what every other religion and worldview, and even every human heart, believes. (pg. 79-80, italics original, bold emphasis on the verse numbers and glossary terms, removed)
Evaluation:
This commentary is packed with gospel goodness. Romans 1-7 is perhaps the most gospel-central section in the New Testament, and Tim Keller is the perfect author to lead us through this section. His insight into legalism and religiousity on the one hand, and licentiousness and atheism on the other, helps us see how the gospel cuts into all kinds of people. This is no dry theological tome, but an exultation in the gospel of God's grace. Keller does advocate a reformed view of salvation, but is very irenic and pastoral in how he explains the text. His position on Romans 7 is that it describes the struggles believers continue to face after salvation. Keller is careful not to force the reader into a theological mold but encourages them to see the text and feed on it. His practical insight and emphasis on application combine to provide a commentary that doesn't stop with the head but moves to the heart quickly. It can be read as a devotional book with benefit, or used as a text for an adult Sunday School class or small group study. I highly recommend it.
About the Author:
Timothy Keller was educated at Gordon-Conwell Theological Seminary and Westminster Theological Seminary, and is Senior Pastor of Redeemer Presbyterian Church in New York City. He is the New York Times bestselling author of The Reason for God, The Prodigal God, and Galatians For You.
Where to Buy:
• Westminster Bookstore
• Amazon.com
• Christianbook.com
• Christianaudio.com
• Direct from The Good Book Company
Disclaimer:
This book was provided by The Good Book Company, via Cross Focused Reviews. I was under no obligation to offer a favorable review.