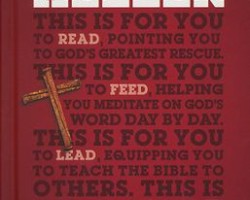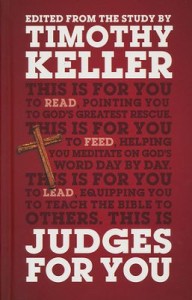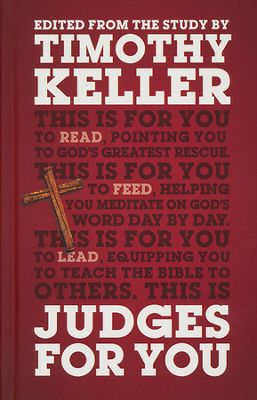 When it comes to Bible study, the English speaking church is truly blessed with a glut of materials. And Bible study helps come in almost every shape and size: simple books with application for laymen, heavy tomes with detailed exegesis of the Greek for scholars, and everything in between. In the God's Word For You series from The Good Book Company, we find a unique balance. Each book in the series is attractively designed and emphasizes that the book aims to unveil God's Word for the ordinary reader. The books aim to help believers read the Biblical text, grow in grace as they learn to feed on God's Word, and also to equip Bible study leaders and various church teachers with a helpful analysis of the text with an eye to application.
Timothy Keller, one of my favorite authors, gives us a gospel-centered look at the book of Judges, in Judges For You. I was repeatedly struck by how applicable the stories in Judges are to the church today. Keller avoids an allegorical reading of the text just as much as he shuns a scholastic handling of it. He sees the Messiah in the types found in Judges, and points out how Judges always leaves us looking for a better king, a better judge, a more complete savior. There is a transition from the entire tribe of Judah fighting for Israel in the first chapters, to the solitary savior, Samson at the end. In every way Christ is the greater David, who fulfills Judges expectation in ways that David, whose story follows on the heels of Judges, never could.
Keller has an eye to challenging aspects of the text for today's readers. He provides an appendix for how to handle the concept of "holy war" in Scripture. And he purposefully points out how Israel's common sin of idolatry relates to similar idolatrous sins we find in today's culture and even in the church. Each chapter includes two sets of discussion questions, and can be broken into two lessons if needed.
I listened to the christianaudio version of this book, and it worked well as a devotional read on the way to and from work each day. The chapters build on each other but can be read individually. The narration at first was hard to adjust to. The reader, Maurice England, has a strong southern drawl, and his accent was distracting at first. Perhaps it was more distracting because it contrasts so sharply with Tim Keller's voice which I was imagining in my head when listening to the book. In time, the narration grew on me and I warmed up to England's voice. I also own the hardback book, and notice that there are only a few things you miss out on with the audio-book. There is one big map in the appendix, as well as a couple diagrams which are not in the audio-book. Additionally, the audio-book does not attempt to include the glossary feature of the book (words in gray font in the text are defined in the glossary at the back of the book).
I highly recommend this series, and am looking forward to picking up additional titles. If each is as gospel-focused as this title, the series will be a boon to the church.
SPECIAL: From now through the end of February, you can pick up any of the books in this series from christianaudio at a 50% discount.
Pick up a copy of this book at any of the following online retailers: Amazon, Westminster Bookstore, ChristianBook.com, or direct from christianaudio.com or thegoodbook.com.
Disclaimer: This book was provided by christianaudio.com as part of the christianaudio Reviewers Program. The reviewer was under no obligation to offer a positive review.
About Book Briefs: Book Briefs are book notes, or short-form book reviews. They are my informed evaluation of a book, but stop short of being a full-length book review.