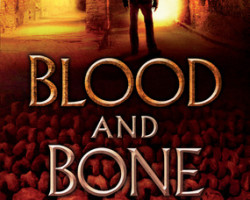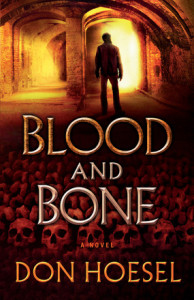 Hidden enclaves, secret societies, and mysterious codes await the reader of this book; as do car chases, gun fights, and the discovery of skulls in dark catacombs. Archeologist and adventurer, Jack Hawthorne can't seem to shake such dark discoveries as he makes his way around the globe. And in this third and final book detailing his adventures, Hawthorne will finally come to the end of himself and unravel the secrets of an ancient society, thousands of years old and as evil as they come.
Blood and Bone is the third and final book in Don Hoesel's adventure series following the life of archaeologist and bounty hunter, Jack Hawthorne. In the earlier books, Elisha's Bones and Serpent of Moses, Hawthorne makes improbable discoveries of biblical relics with miraculous power. Along the way he makes enemies and raises the ire of fellow bounty hunters and government officials the world over.
Hawthorne's adentures takes him to five continents, and lands him in impossible situations and dire predicaments more times than can be remembered. His weapons are his wide grasp of archeology and ancient languages, dumb luck and his slowly growing faith in the God of his youth. This tale finds him married to his long-time girlfriend who happens to be a world-class authority on ancient cultures herself. She doesn't let him venture off alone as together they race to meet the demands of the kidnappers who have stolen their two children.
In this final installment, Hoesel pulls all the stops and delivers a top-notch adventure that gets to the bottom of the secret society Jack has tangled with in the first two books. Along the way, Jack finally discovers the faith that has eluded him, and the adventure series reaches a satisfying finish.
Unlike the second book in the series, this one returns to the high level of artistry Hoesel accomplished in his first title. The books cover fantastic and unbelievable tales, but the stories themselves are well-written, and credible. The characters are intricately developed and suspense and discovery take turns dominating the narrative.
Readers looking for a fast-paced, mystery tale in the vein of Indiana Jones or Paul Maier's A Skeleton in God's Closet, will eat up this series from Don Hoesel. This is archeological fiction at its best. I highly recommend it.
Pick up a copy of this book at any of the following online retailers: Amazon, ChristianBook.com, or direct from Bethany House.
Disclaimer: This book was provided by Bethany House Publishers. The reviewer was under no obligation to offer a positive review.
About Book Briefs: Book Briefs are book notes, or short-form book reviews. They are my informed evaluation of a book, but stop short of being a full-length book review.