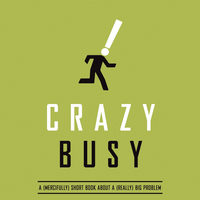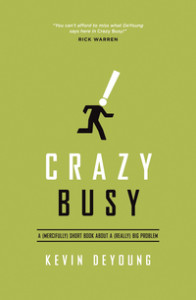 Book Details:
• Author: Kevin DeYoung
• Category: General Christian Interest
• Book Publisher: Crossway (2013)
• Page Count: 128
• Audio Publisher: christianaudio (2013)
• Audio Length: 3 hours
• Read by: Adam Verner
• Format: audiobook
• ISBN: 9781433533389
• List Price: $11.99
• Rating: Highly Recommended
Blurbs:
"A great book for the stressed-out. DeYoung shows that Jesus was busy and Christians should be busy discipling nations, parenting children, and bearing burdens. He rightly differentiates that from 'crazy busy,' a frenzied trying to please some and control others—and he shows how biblical rhythms and trust in God's providence can keep us sane. Also a great book for parents who live in a Kindergarchy, over-programming their children: DeYoung says let them play, because it's not easy either to ruin them or to assure their success."
—Marvin Olasky, Editor in Chief, World News Group
"Busy, hectic lives are the bane of the modern world. This book is not profound; rather it simply offers a lot of that most unfashionable commodity—common sense. DeYoung exposes the nature of busyness, the various ways in which it deludes us, and offers some basic advice on what to do about it. A fine, short book which deserves a wide readership."
—Carl R. Trueman, Paul Woolley Professor of Church History, Westminster Theological Seminary
Overview:
DeYoung tackles the problem of busyness head on, not as an outside critic, but as one enmeshed in all of the mess that our modern world's busyness brings. The book covers all angles of its topic from a Christian perspective. DeYoung opens up and shares a look at his own hectic life throughout the book. He shows the dangers of being "crazy busy" and tries to get to the heart of the issue. Why do we allow ourselves to get so busy? It could be pride or panic, a desire to protect our kids or an over-distraction by our electronic devices. Whatever it is, it detracts us from the one thing we must do — make time for Jesus. And while busyness can be bad, it is also something we should expect as followers of Christ. There are things we should be doing — but in proper perspective, priority and order.
Quotable:
"For too many of us, the hustle and bustle of electronic activity is a sad expression of a deeper acedia [or sloth]. We feel busy, but not with a hobby or recreation or play. We are busy with busyness. Rather than figure out what to do with our spare minutes and hours, we are content to swim in the shallows and pass our time with passing the time. How many of us, growing too accustomed to the acedia of our age, feel this strange mix of busyness and lifelessness? We are always engaged with our thumbs, but rarely engaged with our thoughts. We keep downloading information, but rarely get down into the depths of our hearts. That's acedia—purposelessness disguised as constant commotion." (p. 82)
See also this excerpt from Crossway.org.
Evaluation:
DeYoung's analysis is helpful and hopeful. He doesn't promise ten simple steps to cure busyness, but he has done his homework. There are loads of practical pointers and a lot of sane advice. But as a pastor, he takes us beneath the surface problem of busyness to where the real problems lie. As a soul-physician, he cuts with a sharp point — more often than not hitting too close for my comfort. His writing style is engaging and open, humorous and insightful, yet simple and direct. The audiobook I listened to was clear and non-distracting. The format servers for a great use of my commute time, and the nature of the book lent itself well to listening in bite-size chunks to and from work each day.
Recommendation:
This book is a necessary balm for the ills of modern culture. If you find yourself "crazy busy" you really owe it to yourself to carve some time out for this book. If you're as busy as me, you'll appreciate the audio version. The book will not wow you with inaccessible and profound wisdom, but it may slap you in the face with common sense realism and a dose of healthy spiritual advice. I highly recommend this book and think it will make a great addition to any New Year's "to read" list.
Where to Buy:
• christianAudio.com
• Westminster Bookstore
• Amazon
• Christianbook.com
• Crossway.org
Disclaimer:
This book was provided by christianaudio.com. The reviewer was under no obligation to offer a positive review.