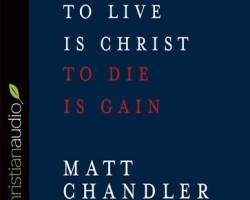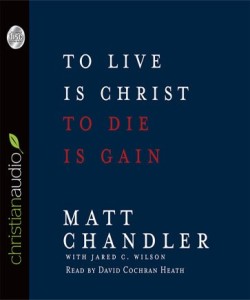 To Live is Christ, To Die is Gain, was the first book I've read by Matt Chandler. Chandler is a young pastor in Dallas who faced a scary ordeal with a brain tumor, but whose testimony shone through even the darkest days of suffering. Chandler is connected with the Acts 29 church planting network and the Gospel Coalition. I jumped at the chance to read this book, thinking he would open up to some of his own struggles at death's door. I didn't find that, but I did find a lot of excellent teaching in a helpful, accessible style.
The book is a Bible study on the book of Philippians, and a masterful one at that. Chandler draws you in to the text, fleshes out helpful context by describing Paul's mission to Philippi and at one point sketching the entire life story of the Apostle Paul. Chandler can paint a picture well, and he also has a pulse on where the average church attender is, spiritually. His book challenges and woos, it focuses on the Gospel and attacks any kind of legalism, yet he is inviting and encouraging too. He shares a lot of stories, many of his own life and family, but only once does he briefly touch on his struggle with cancer. But that aside, the book is an excellent treatment of perhaps the most loved epistle of Paul.
The Christian Audio version of the book plays nicely, although I missed hearing Chandler's voice do the reading. Having heard him in person and listened to an mp3 online, his distinctive voice would make the title even more appealing. But the reading is done very well, and easy to listen to. I enjoyed To Live is Christ, To Die is Gain as I drove back and forth to work, and it made for an excellent devotional time as I prepared for my day. In any format, this would make for a great devotional read. The message of Philippians will challenge you to live a joyful, confident Christian life, that doesn't shrink from declaring the gospel and living a sacrificial life for Christ's glory, whether we live or die.
Pick up a copy of this book at any of the following online retailers: Amazon, ChristianBook.com, or direct from christianaudio.com.
Disclaimer: This book was provided by christianaudio.com as part of the christianaudio Reviewers Program. The reviewer was under no obligation to offer a positive review.
About Book Briefs: Book Briefs are book notes, or short-form book reviews. They are my informed evaluation of a book, but stop short of being a full-length book review.