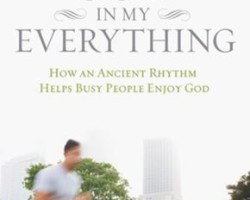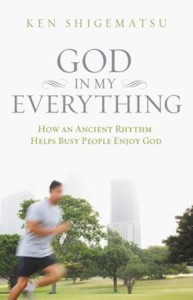 Who in 2013 does not feel busy? At times I feel like I'm spinning even when sitting still! And I am not alone. The frantic pace of life threatens to choke the life out of Christian faith.
Ken Shigematsu, pastor of the Tenth Church in Vancouver, gives us a guidebook on how we can slow down and set up a "rule of life" that will direct our hearts to God in the midst of life's craziness. Shigematsu draws from ancient monastic practices as well as the writings of a variety of Christian leaders from years gone by. He doesn't set up an impossible hoop that today's Chrisitans must jump through, instead he advocates a wise approach that takes the best lessons from ancient devotional practices and adapts them in a realistic and hopeful manner for today's church.
When you mention monastic practices, a wide variety of reactions are sure to arise. Some will see Martin Luther whipping himself to rid his soul of the devil, and others will see Simon Stylite sitting atop his pole for thirty years. There is a danger in going after monastic rituals, don't get me wrong. Monastic devotion apart from a clear understanding of the grace of God in the gospel of Christ, can be soul-damning. I would have wanted more caution in this book about this fact. That being said, however, there is something to be learned by the devotion of the monks and the practices they set up to direct a community of faith to God.
God in My Everything, is more than just a monastic manual. It is really anything but that. Shigematsu envisions the Christian life as a growing plant that needs support by a trellis consisting of life practices that we establish. The roots are prayer, sacred reading, and an experience of Sabbath — rest and communion with God. The activities of life then support our trellis: friendship; covenant sexuality or it's twin, celibacy; and family. Our bodies are made to relate, and also they need to be restored through attention to the physical body's needs, time enjoying life and nature (play), and a careful use of our resources (money). Ultimately, we reach out through a Christian approach to work, justice and living out a witness to the watching world.
I appreciated the book's emphasis that all of life is to be lived for God's glory, and that the joys of life are not divorced from Christian devotion. There was an emphasis on social justice and good deeds, but not at the expense of Christian witness and gospel declaration. Shigematsu strikes a good balance in this book, and people from a variety of Christian denominations can appreciate his contribution. We go wrong when we lose that balance and stress one area of life to the expense of others. The beauty of this approach is that it can be adjusted to a variety of life situations and is a healthy encouaragement to take stock of your current lifestyle and how you can better arrange your life to pursuit a joyful relationship with our Heavenly Father. To that end, Shigematsu includes several examples of individual "rules of life" written by a variety of people as plans for how they will live out a God-centered life in their own everything.
This book will challenge you to examine your devotional life and not just that aspect of your life either. It will call you to experience God in all areas of your life. For that reason I encourage you to read the book in a spirit of openness and prayer, not looking for the few things you can nitpick. I don't agree with all of Shigematsu's advice, but in the whole he is spot on. May more of us determine to live out all of our lives to God's glory and honor.
Pick up a copy of this book at any of the following online retailers: Amazon, ChristianBook.com, or direct from Zondervan.
Disclaimer: This book was provided by Zondervan through CrossFocusedReviews.com. I was under no obligation to offer a favorable review.
About Book Briefs: Book Briefs are book notes, or short-form book reviews. They are my informed evaluation of a book, but stop short of being a full-length book review.