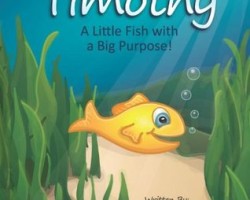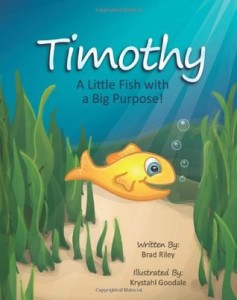 I have read my fair share of kids' story books. I've read about talking pigs and meandering puppies, about cats with hats and showers of noodles. Christian books come in almost as wide a variety too, from talking vegetables to time travelers and more. But I have never heard of a book about the fish Peter caught for Jesus — the fish that had money in its mouth, remember? This unique story is what you'll find in Timothy: A Little Fish with a Big Purpose!
It takes a pretty imaginative mind to think of a back-story to the fish with a coin in its mouth! Author Brad Riley pulls off an intriguing yet captivating tale with a moral. The illustrations by Krystahl Goodale are bright and fresh, and the result is a captivating picture book with a story that will interest adult readers.
The book seems designed for children too young to read. I have the kindle version, but even that makes it seem like this is more of a picture book than a story with pictures. And while the stories will capture the interest of little readers, the story is more involved than most picture books. Riley also takes liberties with the story, and children should be cautioned that this is just a guess at what the fish might have been thinking. Some may think the story is overly done and that too much is made of the imaginative angle. But this is a story that will spark conversation and that is saying something for a kids' picture book that comes in at only 30 or so pages.
I was fascinated and delighted by the tale, even if I didn't totally buy the author's take on the story. I thought the illustrations were bright, colorful and engaging. Little hearts will be directed to Jesus and the place of faith in the reading of this book, and for that reason I hope it gains a wide audience.
Pick up a copy of this book at any of the following online retailers: Amazon, Barnes & Noble, or direct from Vox Dei Publishing.
Disclaimer: This book was provided by Vox Dei Publishing through CrossFocusedReviews.com. I was under no obligation to offer a favorable review.
About Book Briefs: Book Briefs are book notes, or short-form book reviews. They are my informed evaluation of a book, but stop short of being a full-length book review.