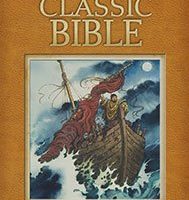 As a father of six kids, I'm constantly on the look out for another Bible story book. The Candle Classic Bible from Candle Books (distributed in the US by Kregel) is a fine addition to my collection. This kids' book has the look and feel of a leather bound, weather-worn classic. It is beautifully illustrated and has a gold sheen on each page. The stories are short but follow the Scripture account well. And the volume comes complete with a ribbon and a full color illustration on the front.
Some kids Bible story books are given to fancy and invention. Others seem to trivialize the text. This has the right blend of contextualizing the story for kids but staying true to the text. I appreciated that several of the less common stories made their way into this collection. It is divided into 365 stories, but I felt that much of the time the story would span two or even three of the daily readings. The Scripture references are included for each story which will invite the family to open up the real Bible and read the fuller account.
The size of the book and its heft–it weighs in at nearly two pounds–will allow this book to endure the frequent use its colorful pages will invite. It is bound to be a family favorite, and I would be glad to see it end up on the shelves of Christians everywhere.
Pick up a copy of this book at any of the following online retailers: Amazon, CBD, or direct from Kregel Publications.
Disclaimer: This book was provided by Kregel Publications. I was under no obligation to offer a favorable review.
About Book Briefs: Book Briefs are book notes, or short-form book reviews. They are my informed evaluation of a book, but stop short of being a full-length book review.