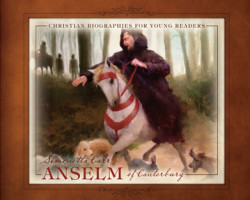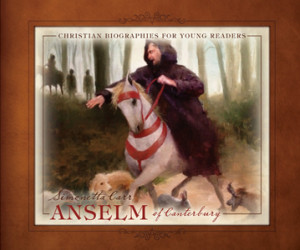 Simonetta Carr has done it again. She has given us a superb historical biography of an important figure in Christian History written for young readers. And once again, an older reader like me, has enjoyed it as much or more than the intended audience.
Anselm of Canterubry is now the sixth title in the "Christian Biographies for Young Readers" series, a set of superbly illustrated and beautifully crafted hardcover books for children. Reformation Heritage Books is to be thanked for providing this coffee-table-quality set of treasures. I've previously reviewed Athanasius and Lady Jane Grey. This work on Anselm is even better than the two earlier works I read. Perhaps his story is more intriguing or less known, but I found the work even more captivating than the previous volumes, while the artwork was as engaging and the history as fascinating as ever.
Anselm became the unwilling archbishop of Canterbury who would rather have lived a life of solitude. Instead he served his fellow man and his church and state superiors. Known for his teaching and his care of the sick and the poor, Anselm is best remembered for his book Cur Deus Homo (Why God-Man?). In this book he develops his satisfaction theory of the atonement, providing a well reasoned argument for why Jesus had to become the God-man. In the simplified explanation of Simonetta Carr:
According to Anselm, even one "small" disobedience to God is greater than many worlds. Only one person could save people from this terrible problem–someone who was fully God, so He could live a perfect life and take the terrible punishment for all the sins of others, and fully man, because it was man who sinned, so man should repay. That's why Jesus, who is fully God, became fully man for us. (p. 43)
As the above excerpt shows, Carr's writing is suitable for older children and doesn't dumb down history to be accessible. She aims to unfold the study of history for young readers but her care for accuracy prevents her from adjusting the story to be simpler and easier. She presents the real history, with its conundrums and questions, for her young readers. This title raises the question of the role of church and state, and the function of the Roman Catholic pope. She satisfactorily explains the quandary of church relations with the state, but only briefly sketches the nature of the papacy. In doing so she provides a platform for careful parents to engage their kids in the informed assessment of church history without overly simplifying complex debates and forcing premature conclusions.
Like the other titles in the series, period maps and illustrations illuminate the pages of her book. Masterful illustrations by Matt Abraxas and engaging full color photographs spark the imagination. Also included are excerpts of Anselm's writings and interesting facts about the customs and lifestyle of his time period.
If you pick up a copy of this book, you will want to pick up the entire set. Books on Augustine of Hippo, John Calvin, and John Owen are also available. I hear she is working on John Knox as the next biography in this important series. I highly recommend this book and encourage you to pick up the entire series. You can get a deal on the first five books of the series over at Westminster Bookstore, where you can also pre-order the volume on Anselm.
Pick up a copy of this book at any of the following online retailers: Amazon, Westminster Bookstore, or direct from Reformation Heritage Books.
Disclaimer: This book was provided by Reformation Heritage Books via CrossFocusedReviews.com. I was under no obligation to offer a favorable review.
About Book Briefs: Book Briefs are book notes, or short-form book reviews. They are my informed evaluation of a book, but stop short of being a full-length book review.