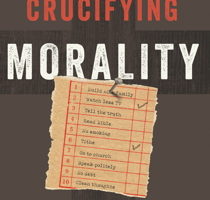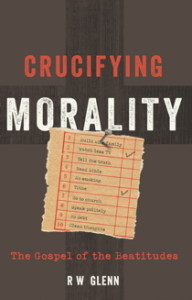 The Beatitudes are perhaps the most memorable section of Jesus' most famous sermon — the Sermon on the Mount. But understanding what the Beatitudes are is not as easy as memorizing these short, poignant declarations. Is Jesus calling us to obey the Beatitudes — to live the life described as blessed? Or is this description of unparalleled righteousness meant to bring us to the end of ourselves? Another way of looking at the problem is asking whether the Beatitudes are intended to guide us into a do-able ethic, or if they are meant to stop us from any pursuit of self-righteousness?
If you are looking for your Bible so you can review the Beatitudes anew, R.W. Glenn would be happy. He is the author of a new book which explores these very questions. Crucifying Morality: The Gospel of the Beatitudes (Shepherd Press, 2013) is a provocative look at the Beatitudes in a new light. And what Glenn gives us in this book is a gospel-centered, grace-filled romp through this most familiar portion of Scripture.
Glenn's book is a devotional exploration of each of the eight Beatitudes. He finds the gospel on full display behind and through each of them. Ultimately, he concludes that Jesus ultimately embodies the Beatitudes – and since we are united by faith to Jesus, we are blessed through his perfect obedience.
Glenn writes with an eye for grace over and against moralism but doesn't speak down to the unenlightened. He aims to inspire and instill hope rather than merely complain about how others are interpreting the Beatitudes. His writing is lucid and clear, even if the truths he drives home are often convicting. But Glenn brings us to Jesus over and over again, and for that he is to be thanked.
Glenn's writing style and focus on Christ shine through in this brief quote:
If you come to Christ's table having already stuffed yourself with your own righteousness, you will starve yourself and never know the satisfaction of the gospel. But if you come to this table with an appetite for Christ's righteousness, it is yours. Bring your appetite and feast at the table of the comprehensively perfect righteousness of Christ, and you will be satisfied. (Kindle Location 1007)
This book is suited well for small groups and Sunday School classes, and includes a variety of application questions at the end of each chapter. Plus, it is not an overly long book and leaves much that can be fleshed out in group discussion. I encourage you to pick up a copy of this book and spend some time working out the gospel implications of the Beatitudes for yourself.
Pick up a copy of this book at any of the following online retailers: Amazon, or direct from Shepherd Press.
Disclaimer: This book was provided by Shepherd Press (via Cross Focused Reviews). I was under no obligation to offer a favorable review.
About Book Briefs: Book Briefs are book notes, or short-form book reviews. They are my informed evaluation of a book, but stop short of being a full-length book review.