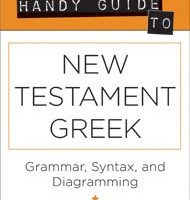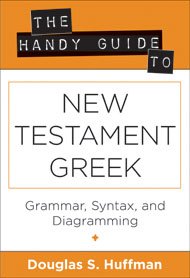 Book Details:
• Author: Douglas S. Huffman
• Category: Biblical Language / Reference
• Publisher: Kregel Academic (2012)
• Format: softcover
• Page Count: 112
• ISBN#: 9780825427435
• List Price: $16.99
• Rating: Highly Recommended
Review:
It goes without saying that learning Greek can be daunting. And the only thing that gives ministerial students more nightmares than Greek is Biblical Hebrew! Whether one is currently immersed in the world of Koine (NT) Greek or if they are years removed from their time spent buried in Greek grammars and syntax books, they are sure to find this new book from Douglas Huffman a true God-send.
The Handy Guide to New Testament Greek: Grammar, Syntax, and Diagramming (Kregel, 2012) is an accessible yet fairly comprehensive resource for the Greek student. And everything from its size and shape (designed to fit nicely next to a UBS4 or NA27/28 Greek NT) to its detailed discussion of phrase diagramming is geared to provide practical help for the average pastor as well as the up and coming Greek student.
I was impressed that it didn't skip the basics — even covering the Greek alphabet for those of us who occasionally hit a mental block when we try to think Greek again! It provides declensions and grammatical rules, and a helpful listing of syntactical options for the various noun cases, verb qualities (tense, aspect, mood, etc.) and participles. It covers purpose clauses and conditional statements; reviews the prepositions and conjunctions; and it does all this in an incredibly useful format — making this the go-to resource for orienting yourself to the Greek text before eventually giving up and consulting the technical commentary or larger grammatical reference tool.
I most enjoyed the phrase diagramming how-to section, which discusses arcing and sentence diagramming before focusing on phrase diagramming and illustrating how helpful it can be for sermon and lesson preparation. The section on diagramming is worth the price of the book all on its own! The charts and diagrams which fill almost every page of this manual, are clear and crisp; and the explanations stay succinct enough to keep the handbook small and convenient in size.
You won't be disappointed in picking up this reference tool. Even if you aren't well versed in Greek, this tool can help you understand the options and make sense of some of the linguistic discussions in critical commentaries. This tool will find a place next to my reader's Greek NT and will be my first place to turn when trying to work my way through the Greek text on my own.
Author Info:
Douglas S. Huffman is professor and chair of the Department of Biblical and Theological Studies at Northwestern College in Minnesota. He is the co-editor of God Under Fire: Modern Scholarship Reinvents God.
Where to Buy:
• CBD
• Amazon
• Barnes&Noble
• direct from Kregel
Disclaimer:
Disclaimer: This book was provided by Kregel Academic. I was under no obligation to offer a favorable review.