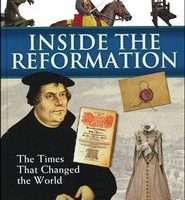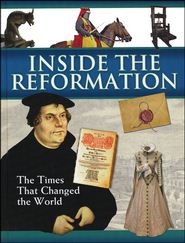 Having just concluded a ten week adult SS series on the Reformation, I was excited to get my hands on a new book that introduces children to the world of the Reformation. Inside the Reformation, compiled by Mark Sengele, is a beautifully produced, coffee-table quality book for kids. The pictures and illustrations are top-notch and will captivate young readers.
The book covers such topics as the Holy Roman Empire, world exploration, music, food and medicine in the middle ages, travel, art, architecture and more. Martin Luther is the focus of this work produced by Concordia Publishing House. Some space is devoted to Luther's wife and other reformers such as Philip Melanchthon, John Calvin and Ulrich Zwingli. Important Reformation events such as Luther's 95 Theses and the Diet of Worms, as well as significant documents, like the Augsburg Confession and the Book of Concord are also surveyed.
The book is a montage of assorted pictures and information, and no attempt is made to tell the full story of the Reformation, directly. Even so, the collection of engaging images and intriguing facts will spur readers to research further and inquire into the history of the Reformation for themselves. The detail and intricacy of some of the concepts covered in this book make it more suited for children in middle school and above.
This book would make a great resource for the child studying Reformation-era history. It would also serve as a useful addition to a homeschool curriculum covering Church history. I was quite impressed with the quality of the book and am very thankful that such high-quality resources are being made available for our children.
Pick up a copy of this book at any of the following online retailers: CBD, Amazon or direct from Concordia Publishing House.
Disclaimer: This book was provided by Concordia Publishing House. I was under no obligation to offer a favorable review.
About Book Briefs: Book Briefs are book notes, or short-form book reviews. They are my informed evaluation of a book, but stop short of being a full-length book review.