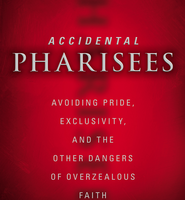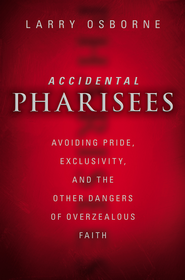 Book Details:
• Author: Larry Osborne
• Category: Christian Living
• Publisher: Zondervan (2012)
• Format: softcover
• Page Count: 208
• ISBN#: 9780310494447
• List Price: $14.99
• Rating: Recommended
Review:
Books on the Pharisees make many people nervous or defensive. No one wants to be labeled a Pharisee, and we're all sure that whatever they were, they weren't us. Larry Osborne approaches this from a more gracious angle, he describes people as "accidental Pharisees" in his new book Accidental Pharisees: Avoiding Pride, Exclusivity, and the Other Dangers of Overzealous Faith. If you're already suspicious of that title, let me encourage you to give it some thought. With everything in the Gospels about the Pharisees, perhaps God really does want us to take some time and study their unique problems and learn how not to be like them.
Osborne's writing style is light yet direct, he communicates with analogies from modern day life and personal anecdotes and has a mastery of humor. Yet his message is serious and at times, he spares no punches. His book attacks pride, exclusivity and the tribalism which characterizes so much of contemporary Christianity, whether we realize it or not. He shows the dark side of movement-based Christian movements such as "Spirit-led, missional, incarnational, gospel-Centered, or some other current Christian buzzword." As Osborne puts it, "You'll find it hard not to look down on those who don't even know there's a buzzword to conform to" (pg. 48).
Perhaps the best way to explain how close to home Osborne's analysis is will be to string together some quotes which capture the essence of both his style and his message. Fundamentalist Christianity such as I hail from, will be eager to write off Osborne's critique as extreme, unloving, or errant. I wish that conscientious fundamentalists would put down their defense, however, and give Osborne an ear. It never hurts to subject oneself to scrutiny. They might just find that his critique is restorative, and his objections spur them on toward a closer conformity to Scripture and a more holistic approach to spirituality that recognizes the need to encourage the weak and guards against the all-too-natural pull toward pride and exclusivity.
What follows then, are several hard-hitting quotes from Osborne:
Gold-Package Fences

The gold-package fences were designed to keep sin out…. Apparently, God's fences werent' good enough. So we added some extra ones to help him out. For instance, God had a fence that said, "Don't get drunk," so we added one that said don't drink. He had another fence that said, "Don't fornicate," so we added one that said don't dance. he also had one that said, "Don't love money," so we added one that limited the size of the house you could live in and the price of the car you could drive…. It didn't take me long to sign up for the gold package. I wanted to be the best Christian possible. The extra rules and fences provided a track to run on and a great way to show God and everyone else that I was serious about following Jesus. I gave it my best shot. But I noticed that all the rules and fences didn't do much to make me more like Jesus. I still struggled with all the same sins as [I] did [with] the stripped-down model. Well, actually, I had one more to deal with: pride. (pg. 96)

Legalism vs. Mercy

The absolute worst thing about legalism is what it does to mercy. It casts it aside, then walks away. It leaves people who need mercy most to fend for themselves and castigates those who offer mercy as spiritual compromisers who water down the gospel…. Legalists offer mercy. But the mercy they offer has limits. They have plenty of mercy for those overseas, mercy for those who face tough odds, mercy for those who don't yet know Jesus. But there's very little mercy for struggling brothers and sisters in Christ. There's not much sympathy for people who are weak and faltering. For those folks, there's nothing but a harsh rebuke and stinging exhortations to catch up with the rest of us, often with a disclaimer that they're probably not even real Christians anyway. (pg. 103, 107)

Theological Uniformity

Ironically, the more fervently we pursue theological uniformity, the more the Bible takes a back seat, even among people who pride themselves on having the Bible in the navigator's seat. that's because the lens of uniformity insists that everyone interpret difficult or controversial Scripture passages exactly the same way. there's no room for differing opinions, blind spots, or simply being wrong. Those who don't toe the company line are cast aside. The result is that every time a tough biblical question comes up, we have to consult the tribal manual for the "correct" answer. Instead of our answers and theology flowing out of the Bible, we end up with answers and theological systems superimposed upon the Bible and read back into it. Eventually the Bible becomes nothing more than a proof text for what our tribe already believes…. But let's be honest. most of our most heated disputes are not about matters that, when we get them wrong, will send us to hell. Granted, many are about important things–very important things–but it's a stretch to call them eternal. And that's why it's also a stretch to think that God approves when we let our pursuit of theological uniformity escalate to the point that it tears apart his family or closes up the Bible. (pg. 146, 149)
I could go on and on quoting Osborne's insights. He speaks of idolizing the past, spiritual gift projection, drive-by guiltings and more. He also speaks of the importance of bearing one another's burdens and fighting for real unity in the church. Frankly, at times, Osborne hits too close to home, for comfort!
After hearing Osborne and his passion, let me insist that there is more to the book than harsh criticism of the harsh legalism that abounds in today's Christianity. Osborne lovingly helps those who see these tendencies in themselves, and he frankly admits that many of these traits were first discovered in his own heart. Ultimately this book offers hope and inoculates believers from a Christianity that is more about scoring points for the home team, then about pointing people to Jesus Christ. I hope you'll pick up this book and add it to your "must-read" pile for 2013. Or after reading it yourself, you may consider giving it to a friend who might appreciate this encouragement too.
Author Info:
Larry Osborne is a teaching pastor at North Coast Church in northern San Diego County. North Coast is widely recognized as one of the most influential and innovative churches in America. Osborne speaks extensively on the subjects of leadership and spiritual formation. His books include Sticky Teams, Sticky Church, 10 Dumb Things Smart Christians Believe, and Spirituality for the Rest of Us. He and his wife, Nancy, live in Oceanside, California.
Where to Buy:
• CBD
• Amazon
• Barnes&Noble
• direct from Zondervan.
Disclaimer:
Disclaimer: This book was provided by Zondervan. I was under no obligation to offer a favorable review.