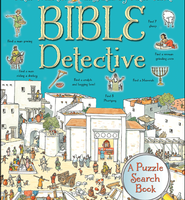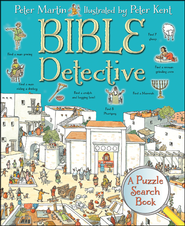 Where's Waldo? Many a child has spent countless hours poring over a large picture book searching in vain for a funny man in a stocking cap, and his companions. Not much was learned in the process, however, and so Peter Martin has set out to change that. Working with illustrator Peter Kent, Martin has created Bible Detective: A Puzzle Search Book, a book that rivals Waldo for fun, but also offers an education in the world of the Bible.
This colorful picture book includes seventeen puzzles with a variety of objects to search for. Women fighting over a well of water, nine yellow frogs, the Tabernacle furniture and Solomon's baboons–the variety of items to find is incredible. Bible scenes covered include David and Goliath, the census of Bethlehem, the siege of Lachish and Peter in Cornelius' house. The pictures are engrossing, the artwork detailed and engaging, and the material is true to the biblical period being explored.
Exploring is just the right term to describe how a young reader will feel as he or she peruses through this bright book. And for those who are quick to give up, there is an answer key in the back with all the scenes mapped out. The quality of this book is superb, and Bible references and dates are provided to allow the puzzle being studied to be properly placed in its specific context.
There are a variety of puzzle books that are available for young readers. But there are not many Christian puzzle books produced with this level of attention to detail and quality of workmanship. This book will compete with secular products well, and should enjoy a long press run. For Christian parents seeking to equip their children with any Bible-themed resource available, this book is a must-have. It will appeal to elementary and middle school-aged children, with the older ones more able to appreciate the manners and customs explained. Come to think of it, even high-schoolers could enjoy paging through this book with their younger siblings.
This excerpt from Kregel illustrates the genius of this book. I encourage parents and grandparents to consider adding this book to their Christmas list this year. It is sure to please.
Pick up a copy of this book at any of the following online retailers: CBD, Amazon, Barnes & Noble, or direct from Lion Books (Kregel).
Disclaimer: This book was provided by Lion Books (Kregel Publications). I was under no obligation to offer a favorable review.
About Book Briefs: Book Briefs are book notes, or short-form book reviews. They are my informed evaluation of a book, but stop short of being a full-length book review.