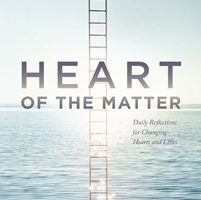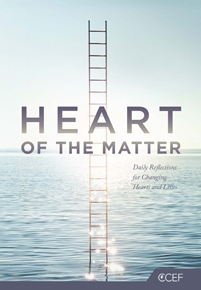 The Christian Counseling and Education Foundation (CCEF) is a ministry focused on providing biblical counseling materials to the church. Their materials connect the Gospel to all of life and are designed to equip local churches to minister to all of the needs of their congregations. I have previously reviewed some of their books (here and here), and helped teach one of their courses (How People Change). I am constantly impressed by the quality of their work and how practical it is for the real problems people face.
New Growth Press has compiled a collection of excerpts from books written by such CCEF authors as Timothy S. Lane, Paul David Tripp, David Powlison, Edward T. Welch, Michael R. Emlet, William P. Smith, and more. The result is a year-long devotional, Heart of the Matter: Daily Reflections for Changing Hearts and Lives, edited by Nancy B. Winter. This hardcover book includes daily devotional readings for every day of the year. The selections are short and readable, yet thoughtful and weighty. The readings are meant to complement a Scripture text to be read each day.
These devotional nuggets provide a practical out-working of a Gospel-centered perspective on all of life that under-girds the counseling approach of CCEF. The sovereignty of God, the reality of the kingdom, the cross of Christ, and grace-based sanctification are a few of the themes explored in these pages. Included in the back of the book is a listing of the source of each excerpt. Particularly poignant daily readings can be traced back to the book they were excerpted from, allowing the reader to turn to the source for more from the author on that subject. Also helpful is a lengthy index of Scripture passages commented on in the book. This index could be used as a guide for reading through the Bible. As you read passages, you can turn to the index and see if any devotional thoughts are available that intersect with the verses you just read.
Perhaps the best way to demonstrate the high quality of this particular devotional is to encourage you to take a quick read through some sample pages (Introduction and Jan. 1-5) provided by the publisher.
If you're looking for a new devotional for 2012, look no further than this volume from CCEF. I'm confident its Gospel-centered, practical application of Scripture to all of life will make a lasting impression on your heart. It can help facilitate real change, by the power of the Holy Spirit–and that is what CCEF is all about.
Pick up a copy of this book at any of the following online retailers: Westminster Bookstore, CBD, Amazon, or direct from New Growth Press.
Disclaimer: This book was provided by New Growth Press. I was under no obligation to offer a favorable review.
About Book Briefs: Book Briefs are book notes, or short-form book reviews. They are my informed evaluation of a book, but stop short of being a full-length book review.