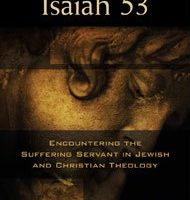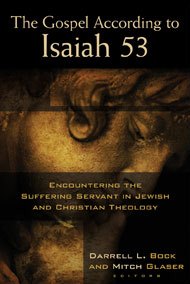 Perhaps no chapter in the Old Testament is more foundational to the cause of Jewish evangelism than Isaiah 53. In The Gospel According to Isaiah 53: Encountering the Suffering Servant in Jewish and Christian Theology editors Darrell L. Bock and Mitch Glaser bring together an impressive group of scholars to discuss this text in full detail. The result is an academic work that aims to equip church leaders for effectively using this pivotal chapter in Jewish evangelism.
The book is divided into three sections. Part 1 coves Christian and Jewish interpretations of Isaiah 53. These first two chapters were most informative and really are worth the price of the book. Richard Averbeck surveys a wide variety of Christian interpretations, and Michael Brown masterfully gives a thorough treatment of Jewish opinions on this passage.
Part 2 is a collection of various essays on Isaiah 53 and is the weakest part of the book in my opinion. The essays themselves are fine, but there is repetition and disparity between them. Most of them spend some time discussing whether the Suffering Servant is collectively understood as Israel or should be viewed as an individual Messianic figure. These essays are written independently and not situated in the flow of the book well, so we cover the same ground over and over again. That being said, the articles do make some important points and cover different points of emphases when it comes to Isaiah 53's development in the New Testament.
Part 3 covers Isaiah 53 in practical theology and is quite good. Mitch Glaser's piece on using Isaiah 53 in Jewish Evangelism is excellent. His explanation of orthodox Jewish objections to Isaiah 53's use by Christians as opposed to the average Jewish person's more secular outlook to the passage is priceless. Too often, we assume that Jews think like Christians when it comes to God's holiness and personal sin, blood atonement and the like, and Glaser assures us this is not the case.
The book ends with an odd concluding chapter, in which Darrell Bock excerpts several paragraphs from each of the chapters in the book. It seems a strange way to conclude a book, but I wonder if it is an attempt to forge a greater unity between disparate pieces? An appendix then includes two sample sermons on Isaiah 53.
The book points us to numerous additional resources throughout, and really does cover Isaiah 53 well. It definitely accomplishes the task it sets out to achieve. Yet the book is clearly directed toward a more scholarly audience and I believe this will limit its effectiveness. There are no transliterations of Hebrew and Greek terms provided, and sometimes there are not even short lexical definitions of them included either. The interaction with scholarly literature, too, is much more than the average lay leader is equipped to handle. Still there is a lot of value to be had in the book, and I was thankful to be reminded of how important this single chapter is for Jewish evangelism.
Pick up a copy of this book at any of the following online retailers: Westminster Bookstore, CBD, Amazon, Barnes&Noble, or direct from Kregel.
Disclaimer: This book was provided by Kregel Academic. I was under no obligation to offer a favorable review.
About Book Briefs: Book Briefs are book notes, or short-form book reviews. They are my informed evaluation of a book, but stop short of being a full-length book review.