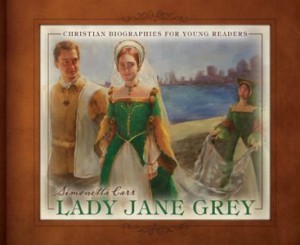 Book Details:
• Author: Simonetta Carr
• Illustrator: Matt Abraxas
• Category: Children's books, biography
• Publisher: Reformation Heritage (2012)
• Format: illustrted hardcover
• Page Count: 64
• ISBN#: 1601781903
• List Price: $18.00
• Rating: Must Read
Review:
I don't remember having heard the story of Lady Jane Grey, so when I picked up Simonetta Carr's most recent addition to the "Christian Biographies for Young Readers" series I was covering new territory. I was not disappointed. Jane Grey's life story is truly inspiring, even though her life was tragically cut short. But I'm getting ahead of myself.
Since parents are the likely readers of my review, I'll risk some spoilers. Jane Grey was in England's royal family, during the time of Henry the VIII. When Henry's son Edward was dying, he named Jane Grey to be his heir — in hopes of spoiling his step-sister Mary's chances at the throne. But more than mere political intrigue was involved here. It was Grey's strong evangelical Christian testimony which moved Edward to select her. And Mary was destined to become known as "bloody Mary," in her zeal to purge England of Protestant opposition to Roman Catholicism. Lady Jane Grey, who never asked or wanted to become queeen, ruled for less than two weeks, and after a lengthy imprisonment, was eventually put to death as Mary moved to secure her rights to the throne.
Jane Grey and her Christian testimony, shine through in this bright and colorful book for kids. Like always, Simonetta Carr has done her homework and provides a factual account of Grey's life. She shares the touching last moments of Grey's life–her preparations for death, and the full text of a letter written to her sister, encouraging her in the faith, just hours before Jane was to become a martyr. Carr captures the uncertainty of the story and illumines it with historical detail that bring seventeenth Century England to life, for today's children.
Illustrator Matt Abraxas outdoes himself in providing rich and vivid drawings, detailed maps, portraits, pictures and other artwork which will make flipping through the pages of this book a joy for parent and child alike. Inquiring young minds will enjoy the timeline provided and an assortment of fascinating facts from her era. The rest of the story, when it comes to religious freedom in England, is also provided.
Once again, Carr has given us a masterpiece. This book will educate and delight young readers, and it will challenge and inspire both them and their parents to live for Christ. As a father of six children, I appreciate books like this that can inform and shape my children's impressionable minds. This book will find a special place in our home.
Author Info:
Author, Simonetta Carr was born in Italy and has lived and worked in different cultures. A former elementary school teacher, she has home-schooled her eight children for many years. She has written for newspapers and magazines around the world and has translated the works of several Christian authors into Italian. Presently, she lives in San Diego with her husband, Thomas, and family. She is a member and Sunday school teacher at Christ United Reformed Church.
Illustrator, Matt Abraxas has traveled from California to France, studying different approaches to art. He enjoys creating and teaching art, and currently exhibits his work at the SmithKlein Gallery in Boulder, Colorado. Matt lives with his wife Rebecca and two sons, Zorba and Rainer, in Lafayette, Colorado.
Where to Buy:
• Westminster Bookstore
• CBD
• Amazon
• direct from Reformation Heritage
Disclaimer:
Disclaimer: This book was provided by Reformation Heritage Books. I was under no obligation to offer a favorable review.