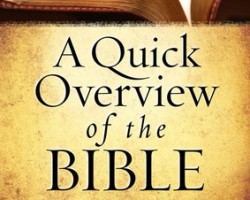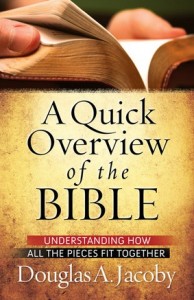 There have been many books created with the goal of introducing people to the Bible. Hermeneutical guides, Bible handbooks, "Cliff's Notes", and excerpts from various books of the Bible. Sometimes the attempt to introduce a newbie to the Bible results in an enormous and unwieldy reference book, while other times the end result is a neutered book that fails to capture the beauty and power of the world's greatest book. Douglas A. Jacoby has given us what may be the best designed and most user-friendly yet faithful and in-depth introduction to the Bible. A Quick Overview of the Bible: Understanding How All the Pieces Fit Together looks to be an amazing little book which will fill a needed role. And it comes complete with an online resource for how to use it in small groups and SS classes too.
The book hits on many of the questions people have today, such as why the God of the OT is so mean, and if there really is a unity to Scripture. At the same time, it covers basic facts, names, places, geography and the sorts of things a handbook would cover. Then again, the book introduces the reader to each genre of Scripture covering most of the Biblical books as well. A historical storyline is provided too, which helps situate the books and the overall message of Scripture. Themes and theological development are highlighted, and Scriptural allusions are as well.
The book stays practical but informative, it comes at Scripture from a believing standpoint, yet is careful to not be overly sectarian. It is the sort of tool that almost any Bible teacher could pick up and use as a starting point for an overview class, filling in any perceived gaps or clarifying any different emphases with their own perspective. The format of the book includes pictures, maps, charts and graphs as well as a clearly outlined presentation. And the discussion is succinct and clear above all, which helps keep the work limited to around 250 pages with a very readable font.
This book excites me, and I'm happy to have been able to review it. I hope it will be a help to many in the church, both those who want to read Scripture but need guidance, and those who want a refresher on seeing how all the disparate parts of Scripture fit together into a single and compelling story.
Pick up a copy of this book: ChristianBook.com, Amazon.com, BarnesandNoble.com, or direct from the publisher.
Disclaimer: This book was provided by Harvest House Publishers. I was under no obligation to offer a favorable review.
About Book Briefs: Book Briefs are book notes, or short-form book reviews. They are my informed evaluation of a book, but stop short of being a full-length book review.