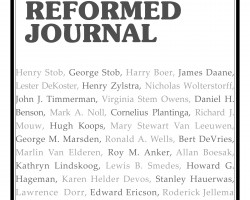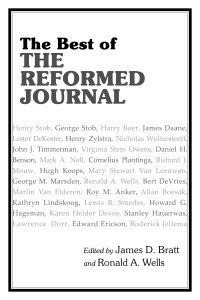 The back cover of this handy book explains that The Reformed Journal "set the standard for top-notch, venturesome theological reflection on a broad range of issues." Unfortunately, the journal was somewhat before my time: its print run spanning 1951 to 1990. This makes the anthology brought together by James D. Bratt and Ronald A. Wells all the more valuable. Wells was an editor of this journal at one point, and both of these men have a long history on the faculty at Calvin College, which published the journal.
The Best of The Reformed Journal collects poignant pieces from the history of the journal in an easy to browse collection, handily contained in a softcover volume. Arranged by topic and time period, the articles run the gamut from theology and politics, art and culture, to race and social concern. Cornelius Plantinga, Richard Mouw, Carl F. H. Henry, Mark Noll, George Marsden, Lewis Smedes, and Nicholas Wolterstorff are just some of the more well-known authors included in the collection.
These pages include relections on Calvinism and democracy, the legacy of T.S. Eliot, reflections on the atomic bomb, commentary on the civil rights movement and Apartheid, and thoughts on pro-life issues and women's liberation. Interesting article titles include "On Looking at Paintings", "Common Grace versus Individualism", "Navel Theology", "Humanitarian Snobs?", "Star Wars in Beulah Land". The selections are usually abbreviated to be a page or two in length, sometimes more. And occasionally a series of articles that spans several Journal editions is found, such as the back and forth between Lewis Smedes, Carl F. H. Henry and Richard Mouw on "Evangelicalism and the Social Question".
If you are looking for enlightened yet easy reading, or if you are up for a look back at how leading Christian thinkers were addressing the problems facing the last half of the 20th Century, then you should pick up this book. At the very least, it will stimulate your curiosity, and it may just add some context to the problems of today.
Pick up a copy of this book: ChristianBook.com, Amazon.com, BarnesandNoble.com, or direct from the publisher.
Disclaimer: This book was provided by Eerdmans Publishing Company. I was under no obligation to offer a favorable review.
About Book Briefs: Book Briefs are book notes, or short-form book reviews. They are my informed evaluation of a book, but stop short of being a full-length book review.