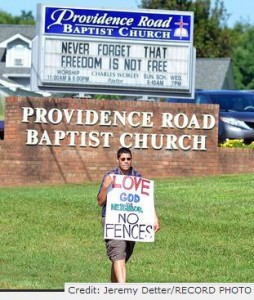 Pastor Charles Worley of Providence Road Baptist Church in Maiden, NC caused a national uproar over his recent comments on homosexuality. I get the feeling that this news story is only going to get bigger.
Here's a summary of his comments in a sermon on May 13, where he is reacting to President Obama's endorsement of gay marriage:
I figured a way out, a way to get rid of all the lesbians and queers but I couldn't get it pass the Congress – build a great big large fence, 50 or a hundred mile long. Put all the lesbians in there, fly over and drop some food. Do the same thing with the queers and the homosexuals. And have that fence electrified so they can't get out.

And you know what? In a few years they will die out. You know why? They can't reproduce. If a man ever has a young'un, praise God he will be the first.

–see the youtube video clip included in this article
The pastor is not backing down, and the next Sunday apparently, his congregation was in full attendance with 100 visitors and supporters from the surrounding area. Oh, and there was the massive protest outside from gay rights groups and sympathizers as well.
In fact, one of the church members has gone on record saying that gays are worthy of death.
Let me be clear, this disgusts me. These comments are ugly, uncaring and downright unChristian. And these comments don't help anyone. They infuriate the homosexuals (understandably), and they give credence to the idea that the Church hates homosexuals, period. Where is the grace? And how are homosexuals to be wooed to Christ with such a hate-filled message.
Someone has also unearthed a 1978 message with Worley declaring that forty years ago, gays would be hanging from a white oak tree. Underlying the words that Worley uses, seems to be a belittling of gays and homosexuals and a feeling that he is better than they are. And one could even read hate into all this – and homosexuals will justifiably see it that way.
Most conservative Christians like me, decry these statements and distance ourselves from them. But some of the recent discussions at SharperIron here and here, sadly show that many basically support this pastor's message.
There are numerous articles available online discussing Pastor Worley's anti-gay message and I won't provide them all here. I just want to explain why I think he is so wrong.
The Old Testament laws against homosexuality teach us that it is immoral, just as much as the laws against sex outside of marriage do, as well. But the corporal punishment and the death penalty was broadly applied in ancient Israel to a number of crimes including homosexuality. And it is wrong to extrapolate from these old laws that God wants homosexuals to be killed today. In fact in 1 Cor. 6, the Scripture says that some of the Christians in Corinth were formerly homosexulas and that they had been washed, cleansed and sanctified – and certainly weren't worthy of death.
Jesus Christ and his death on the cross took the full punishment of all the coporal punishment-worthy crimes in the Old Testament law. And Jesus' message of hope and forgiveness through the Gospel is given to all who believe. The Church is spread through persuasion and love, not coercion and the sword.
We should love and welcome homosexuals as fallen sinners (like us all). Their struggles with sin are real and difficult, not to be easily dismissed out of hand. But they must forsake their sin and come to the foot of the cross for forgiveness and healing – just like all of us need to as well.
I encourage you to read my reviews of the following two books for a fuller picture of my take on homosexuality and a Bible-based, sympathetic view that sees the practice as morally wrong, but upholds those who are homosexual as people in God's image in need of a loving Savior.